A year and a half ago our grandson Mac, age 6, had to have a liver transplant. We almost lost him. It was a fearful time for his 4 siblings. (Read here). His older sister Grey (age 8) was having an especially hard time-particularly at bedtime. She could not fall asleep. She was afraid of so many things.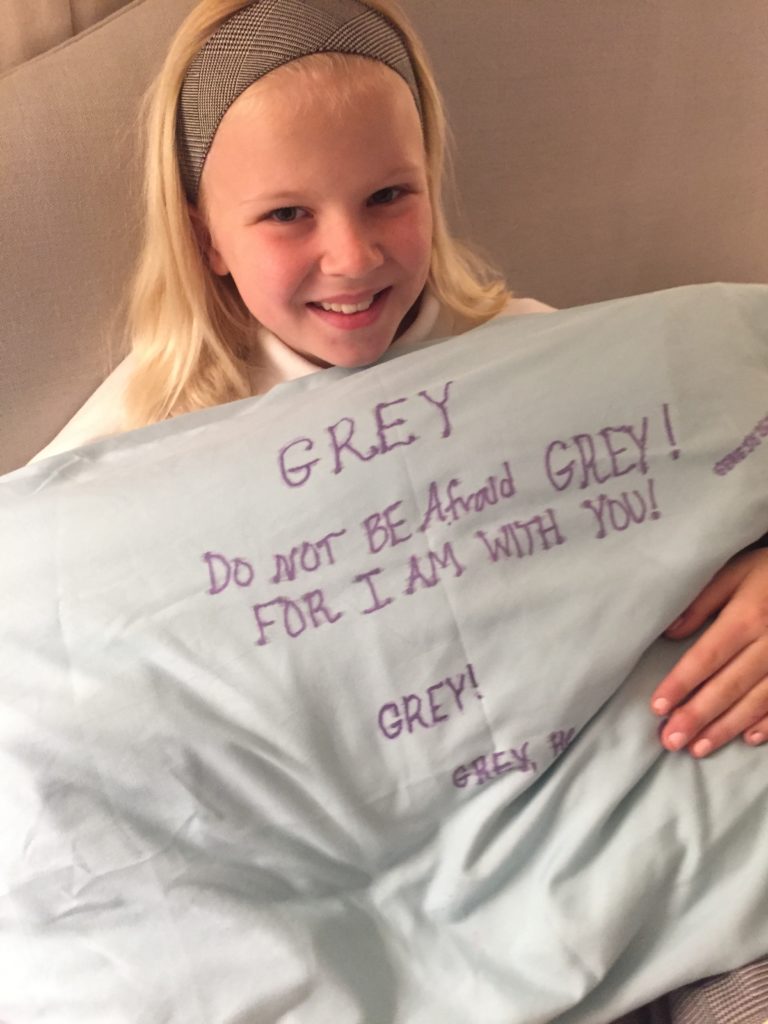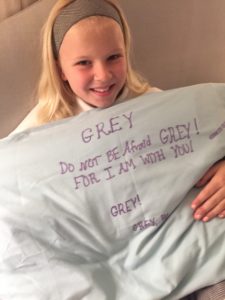 One night as I snuggled her in her bed I told her about one of God's names-Immanuel, which means God with us. (Isaiah 7:14, Matthew 1:23)
"Grey, I said, "there is one thing we can always be sure of and that is that God will never leave us. He is with Mac right at this moment and He is in bed with you right at this moment. He will never ever leave you. You can always tell Him exactly how you are feeling. Jesus I am afraid, but you are with me right now and you love me."
The next day Grey and I went to the store and bought a plain white pillowcase and a permanent marker. We wrote, "Do not be afraid for I am with you." (Genesis 26:24) and put it on her pillow.
Most kids have night fears at some time. After my experience with Grey I discovered that one of my grandsons was also fearful at bedtime. I got a pillowcase for him too and wrote verses from Psalm 121 on it.
"Tucker, do you know that God is staying awake all night watching over you?"
The Bible says,
"He will not let your foot slip-he who watches over you will neither slumber nor sleep"(Psalm 121:3)
When you are afraid to go to sleep remember that God is staying awake watching over you. He is a "watching over you God."
When 4 of my grandkids went off to camp a bit reluctantly I sent them with pillowcases on which I had written special verses for each one.
Sometimes we just need visual reminders of God's truths to cling to.
And it's wonderful to go to bed with our heads on His word!