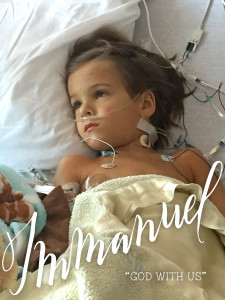 For several weeks I've been mulling over this question: "What do I need the most?"
Yes I need forgiveness, wisdom, help, peace, freedom from fear, a sense of purpose, etc.
But if I had to boil it down to one thing, what would it be?
For me it would be a sense of Immanuel: God with Me. A moment-by-moment awareness that I am not alone. He is with me. In fact He is stuck to me. Super glue stuck. And He will never leave me. No matter what.
The past 10 days I've had the opportunity to rest in this truth in an unusual way.
Our 6 year-old grandson Mac (He's one of our quads) developed a stomachache, which quickly escalated into a critical illness. As he continued to rapidly decline, it became apparent that he needed a liver transplant. God provided an amazing surgeon (Dr. Eason) and an incredible medical team in Memphis. Many people quickly gathered to pray for us and to care for us. Five days ago the perfect liver donor was found. We grieve and pray for this family who we do not know. Through their loss our boy's life has been saved. What a gift. Words cannot express our feelings for them. God is with them and we pray for His supernatural comfort for them.
Fear, hope, shock, numbness, sleep depravation, tears, laughter, more tears-an emotional roller coaster.
Realizing so many things that don't matter, comforting 4 young siblings, trying to make wise decisions, praying and praying.
But always a sense of his presence. He has been a "with us" God. Every Moment. Moment by moment.
Mac's 8 year-old sister Grey has been fearful going to bed at night. We read Psalm 121 and I wrote it out in large letters on a pillowcase for her to sleep on. Our God is a watching over you God who neither slumbers nor sleeps. Along with her other favorite: Do not be afraid for I am with you. (Genesis 26:24)
We have a long road ahead. But we are not alone.
He is a watching over you God.
He is Immanuel, God with us.