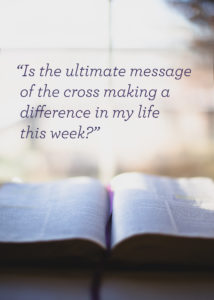 We just celebrated Easter. Family reunions, new outfits, beautiful flowers, yummy food. And for most of us a church service, strong sermon, and victorious hymns.
"Jesus Christ is Risen today, Alleluia."
But now it's the week after and I wonder-did Easter make any difference in my life?
It's easy to fall back into our daily routine-kids' schedules, obligations, work deadlines, and yes broken relationships and guilt over our own failures.
Is the ultimate message of the cross making a difference in my life this week?
Or have I fallen back into excusing a sin, or self-condemnation, or un- forgiveness towards someone?
I have found that when it comes to the concept of sin we fall into one of 3 traps.
We excuse ourselves.
After all I would never…. Or, at least I don't…. Compared to ___I'm not so bad.
But I would and I am. Apart from the grace of God I could murder, etc. The one thing we all have in common is our spiritual brokenness. Every single one of us needs the cross.
Every day as you drive, work, play, thank Him for the cross. It has saved you.
We condemn ourselves.
We say to ourselves, what I've done is just too bad. I can't even mention it. He can't forgive "that," the lies, the men, the abortion…
Oh but He can and He did – on the Cross! When we say, my sin is just to bad, what we are really saying is:
"God, your son's sacrifice on the cross for my sin wasn't good enough. I need something more." This is really pride because your message is: my sin is greater than your son's sacrifice. Can you imagine how that must make God the Father feel?
When Jesus died on the cross He forgave your worst sin.
"If we confess our sins He is faithful to forgive us and to cleanse us from all unrighteousness." (1 John 1:9)
"There is therefore now NO condemnation for those who are in Christ Jesus. " (Romans 8:1)
We fail to extend forgiveness to others or to ask for forgiveness ourselves.
That girl friend that hurt us with her words or deeds. That person who left us or our child out. That spouse who left. That estranged family member. That person who cheated or robbed us…. I can't forgive her. It hurts too much. But the Cross hurt Jesus! Emotionally and Physically. He understands our pain and still He says forgive others—no matter what they have done or left undone. But there's more, He says we are to ask for forgiveness from Him and to ask for forgiveness from others.
If there is a sin that you are nursing-a critical spirit, an unforgiving spirit, etc. say, Jesus you died for this sin of mine. I ask you to forgive me. Thank you that you have forgiven me. And then go to the person with whom you have a broken relationship and ask for their forgiveness. For some this may involve writing a letter. Don't say: but if you had or hadn't… This is not primarily about them; it's about you and your relationship with Jesus. It's about taking Him up on his promise to forgive us as we forgive others. And that may mean being willing to take all of the blame, even if it seems unjustified. We don't go out of feeling. We go out of obedience. Asking for and granting forgiveness doesn't mean feelings are immediately healed or trust restored. This takes time. But asking for forgiveness opens the door to the power of God to heal.
Paul encourages us; "In as much as possible do all you can to live in peace with all men." (Romans 12:18) Our attempt for reconciliation may not be received. We can't control another person but we can be obedient to Christ and leave the results up to Him. There is tremendous freedom and joy in doing what is right. We don't want to die or have someone else die and wish we had gone to them asking for forgiveness. In as much as we can, we want to live with "no regrets."
So it's the week after Easter. How are we doing walking in the truth of the resurrection? Do we need forgiveness? He gave His life for this. (John 19:30)
Do we need courage to go to someone? He will provide. (1 Timothy 6:17)
May we learn to be "Easter People" not just one day of the year but 365 days of the year.
"For nothing is impossible for God!" Luke 1:37