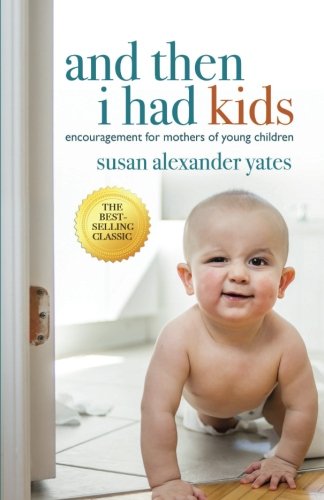 My expectations of family life before I had kids were so different from the reality that I eventually faced with five children in seven years, including twins... And then I had kids!
About the Book
My expectations of family life before I had kids were so different from the reality that I eventually faced with five children in seven years, including twins. I used to be critical of moms whose children had runny noses. Why don't their mothers wipe their faces? I would wonder. I'd stare at a child in public whose hair looked like it had not been brushed in a week or whose clothes did not match… And then I had kids!
Would you like some encouragement and advice from a mom who has been there? When the Yates's twin daughters were born, they joined siblings ages two, four, and seven. Drawing from her experience, Susan offers this helpful guide for parents facing the challenges of raising young children.
And Then I Had Kids will help you handle common struggles such as priorities, discipline, and fatigue. As Susan shares biblical insights and her own humorous stories, you'll be comforted by understanding, refreshed with laughter, and stimulated with ideas to enable this season of life to be one of unique and lasting joy.
This book is ideal for mothers of children ages eight and under. It makes a great gift for new or overwhelmed moms who wonder, "Does anyone else feel like this?" Questions at the end of each chapter make this perfect for a moms study group.
Endorsements
"If you're the mother of young children and are looking for some very honest, practical help with and through this incredible time in your life, and if you're looking for a woman who is serious about integrating thoughtful, biblical wisdom and sensitivity into her role as a mother…Susan Yates is the friend you've been looking for!"
– Rebecca Manley Pippert, author of A Heart Like His
"Yates uses humor and the experience of raising five children (among them, a set of twins) to encourage new mothers in the sometimes frustrating drudgery. She covers self-image, establishing working priorities and discipline, offering realistic and hopeful solutions. Grandmas might consider this as a gift to daughters or daughters-in-law with young children. Especially helpful are Bible meditations at each chapters end."
– Bookmart
"Susan's practical insights, kid-tested advice, and easy-to-read style make this one parenting book that really WORKS! Keep one book in your diaper bag, another in your glove compartment, and a whole case of them in the trunk – you'll want to give a copy to every mom and dad you know."
– Jodie Berndt, author of Praying the Scriptures for Your Children
"Susan Alexander Yates understands me! Her honesty and encouragement serve as a dose of perspective and helpful direction for mothers everywhere. If you have young children, you need this book! It promises to equip you to do your best in the high calling of motherhood."
– Jill Savage, mother of four, author, founder of Hearts at Home
"Mother of five, pastor's wife, Susan Yates offers empathetic encouragement to mothers of young children, along with practical help and a means of incorporating biblical wisdom into the task of mothering."
– Ingram Book Review
Disclosure of Material Connection: Some of the links in the page above are "affiliate links." This means if you click on the link and purchase the item, I will receive an affiliate commission. I am disclosing this in accordance with the Federal Trade Commission's
16 CFR, Part 255
: "Guides Concerning the Use of Endorsements and Testimonials in Advertising."