Are you getting ready to send a child off to college or preparing to send your youngest to all day school? Or have you just had a wedding? If so, you may be an emotional mess. The empty nest hits us in different ways, at different times, and often when we least expect it!
How well I remember dropping our last child Susy off at college and beginning the long drive home.
The week before, we had left her twin sister Libby at another college so not only was I sending off my last two at once, but it was the first time the girls, who are very close, had been separated.
My husband John thought this would be a celebration of sorts for us! All those years of daily parenting five children would be finished and now we could focus more on us. So he planned an overnight on the drive home at a romantic lodge in the mountains. Ha.
As we pulled away from the college campus my tears started to flow. I felt like my life was over. My main job of parenting was done. What was my purpose to be now?
I ached for the sadness the girls were experiencing in being separated. It had been their idea to go to different colleges but none of us anticipated the pain this would cause.
In the midst of my tears I tried to explain my feelings to my husband. Feelings I couldn't even understand. I felt lonely in my misery. I felt guilty. After all, this was a good thing! And I had a great husband who was trying to please me. Yet I was miserable.
Needless to say our romantic getaway wasn't very romantic!
You may not experience sadness at having just sent a child off. In fact you may be thrilled. Each one of us is different and we never know when the emotions of the empty nest will hit us. It may not be until your last child is married. Or you may grieve when they begin high school.
This season is not neat. It's messy.
And there's not much written about it to guide us through it. But God does have a new plan for each of us as we approach the empty nest. And it is exciting.
If you are about to drop off your college freshman here are 4 great tips:
1. Before you go to campus research the fellowship groups on the campus.
Groups like Cru, RUF, Christian Study Centers, Navigators, IV. Find out when and where they meet and tell your child that you want them to visit two at least twice and then join one. The same thing applies to church. Visit 2 and then commit to the one that feels right.
This should be a clear expectation, similar to going to class. You are likely financing some of their costs and you have a right to make this a condition. They should commit to a fellowship group and a church within the first 2 months.
Statistics show that the first 10 days of college life are crucial in determining what group your student will hang out with. We want to encourage our kids to seek healthy relationships.
2. Many college fellowships have move-in day luncheons. Sign up to attend one.
You and your child will meet other believers and hear about fellowship groups on campus. The Center for Christian Study in Charlottesville, VA has one such lunch that my daughter Libby and I helped start nearly 20 years ago!
3. When you move in wear a t-shirt from a Christian camp or some logo.
When our daughter Libby moved into her dorm she had on a Young Life t-shirt. Another girl moving in recognized this and the girls realized they were both believers. This was a huge connection for their first day!
4. Be positive, even if you are sad and your child is too.
Communicate to your child that he or she is about to begin a great adventure and it is good! And continue to pray daily for them and for their friendships.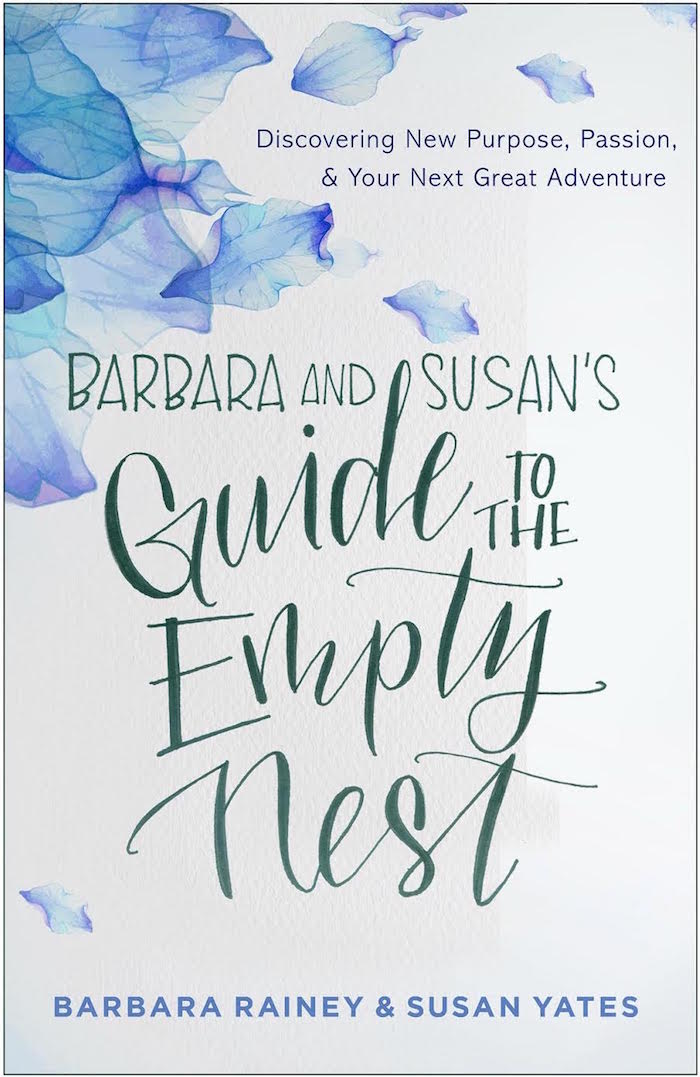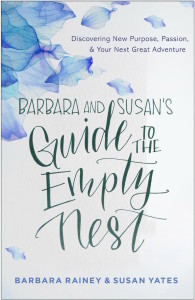 Barbara Rainey and I wrote a book which deals with various challenges of the empty nest including loneliness, redefining marriage, how to let go of your child, etc. The book contains a 4-session group study. We hope you will invite some friends to join you in an Empty Nest book club! Order it here from Amazon.
Here are a few additional resources:
Listen to Susan and Barbara on FamilyLife Today's broadcasts:
Blogs: