Hey Friends, I know we've all been cooped up for a while now, and we have no idea how long this will last. In the midst of all the hard things, we still need to laugh and we still want to plan for better times. My desire is that the following video blog will give you a break from daily news and inspire you to dream for the future!
---
I hope you've had a chance to watch the video describing our Cousin Camp. It will answer questions like how do you do it, who do you invite, where do you have it, what does a schedule look like, how long does camp last, what works and doesn't work, what lessons have you learned?
Over the years, we've made lots of mistakes, shed tears, laughed uproariously, thrown out plans, separated quarrelling kids, cheered when kindness overcame selfishness, and fallen into bed exhausted, but above all we've had a blast. Seeing two girl cousins who used to fight like cats now snuggling on our bedroom floor in sleeping bags, giggling together, makes it all worth it.
When we think of planning an event, we typically begin with the program. Who should we invite? Where should we have it? What should we do? Will we have a theme? We design a wonderful party or reunion that most people enjoy—but then it's over. When planning a family gathering, we need to ask:
While the event might have good results, will they last? What if we carefully considered the goals of our event and the needs of the people attending? Would this enable a fun event to have more of a long-term impact?
In Chapter 2 of Cousin Camp, I describe how older mentors, Chuck and Cathy Miller, gave use a new paradigm for planning any type of event–a paradigm that has radically changed not only how we approach family reunions, but also our life in ministry, our family schedules and fresh ways to pray for our kids.
This week I thought it would be fun for you to hear from the eldest of our twenty-one grandchildren, Callie Gaskins. At our first Cousin Camp, we had five cousins–three siblings and two cousins from two different families. Callie was ten and the others were eight, five, five, and four. Today Callie is twenty-two and about to graduate from college. We have now hosted eleven years of "Cousin Camp."
Here's Callie in a spontaneous, unrehearsed, unedited chat with me: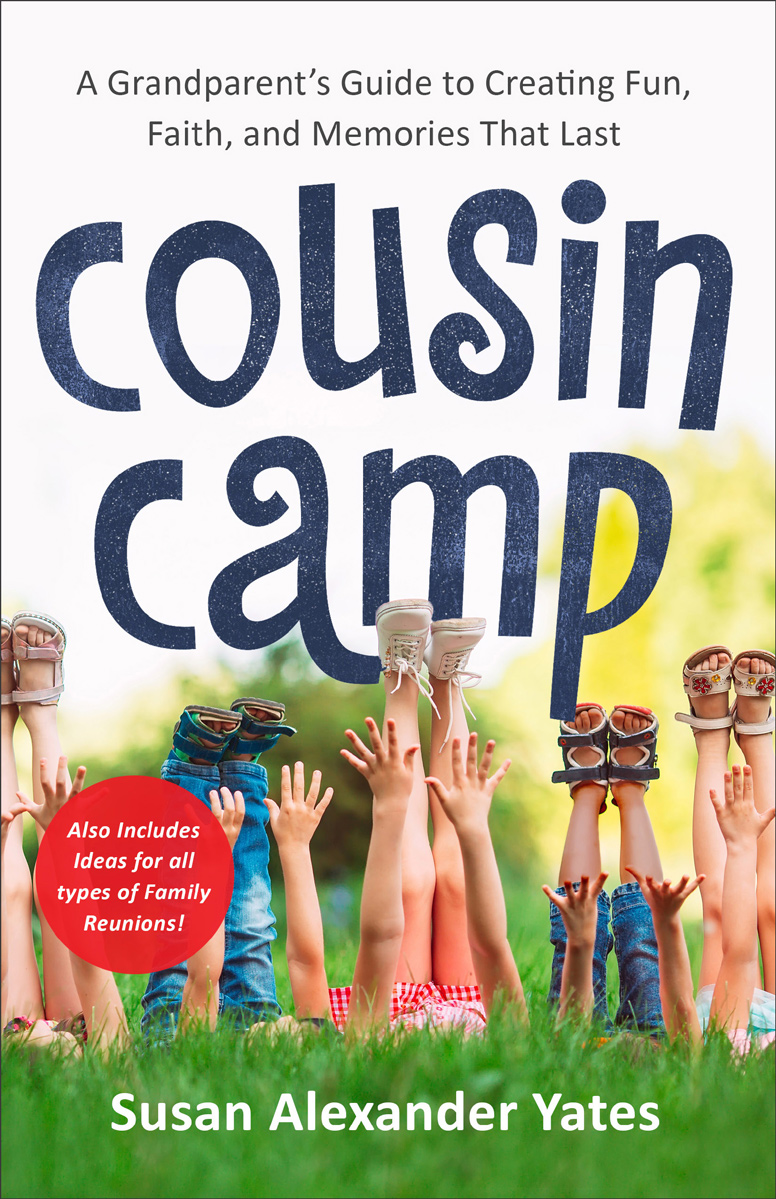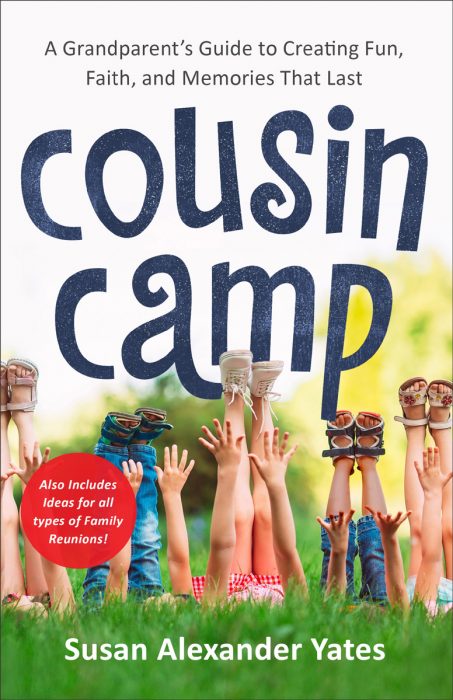 Cousin Camp is an inspiring, practical book that outlines how grandparents can plan and host a camp. Grandmother to 21 grandchildren, Susan Yates has been creating cousin camps for years. Now she passes on what she's learned so you can help your children and grandchildren develop meaningful, lasting connections with each other–and with you!
Here is the text of Callie's blog post, originally published after Cousin Camp 2016:
Why Cousin Camp is Worth the Loss of Sleep
by Callie Gaskins, our eldest grandaughter
I'd say I'm exhausted, but that would be a gross understatement.
Exhausted, ecstatic, wistful… the list goes on. I'm less than twelve hours out from Cousin Camp 2016 and at this point I don't really know what hit me. I spent the weekend enveloped in chaos and occasionally sweet cousin cuddles, but in my tired state everything seems like a blur.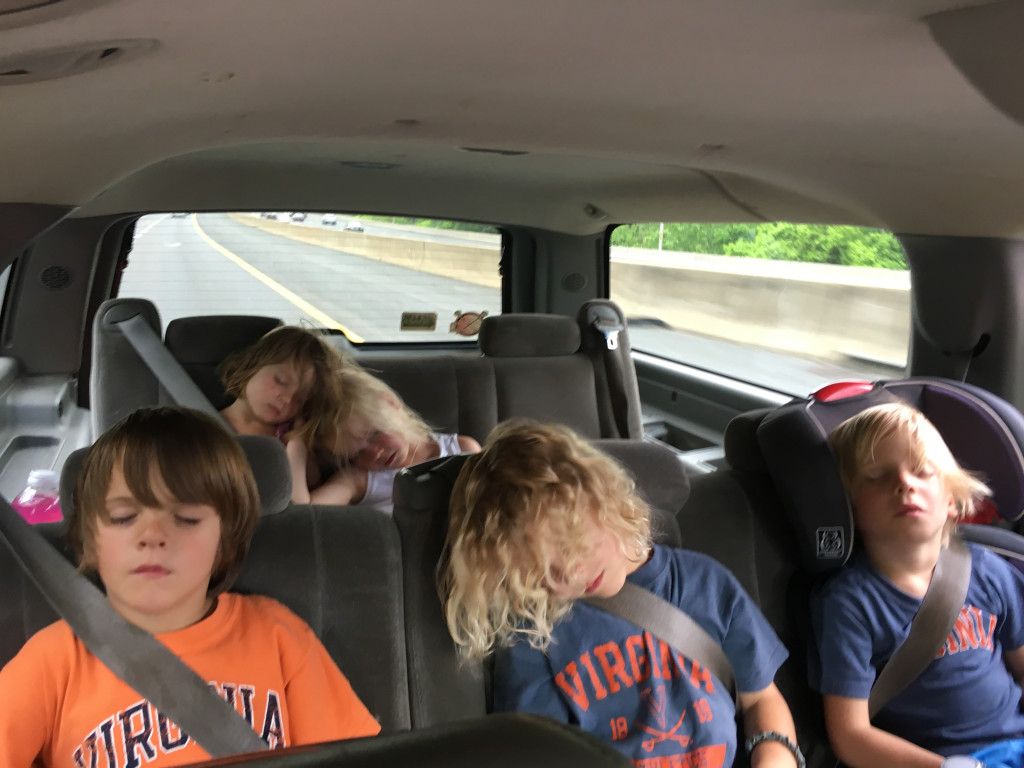 Yes, we did sit through morning quiet times and afternoon rest periods, but those brief instances of "calm" are overshadowed by the pandemonium of the rest of the weekend. Traditions such as receiving fun tee shirts made by our uncle, a trip to the vineyard for a picnic, and the induction of the new campers into the "Band of Cousins" were complemented by the introduction of teams ("for cooperation, not competition" as Ghee insisted to no avail) and the highlight of the weekend, a giant obstacle course.
However, all of these planned activities, while fun, were certainly not the highlight of Cousin Camp—they never are. The real highlights were the impromptu things: precariously stacking five Eno hammocks on top of one another, catching what is probably the second largest fish to ever come out of the pond, one of the boys insisting that watermelon is a Fruit of the Spirit, and guacamole making competitions, among other things.
These delightful times serve as catalysts for what I hope will be life­long relationships between us cousins.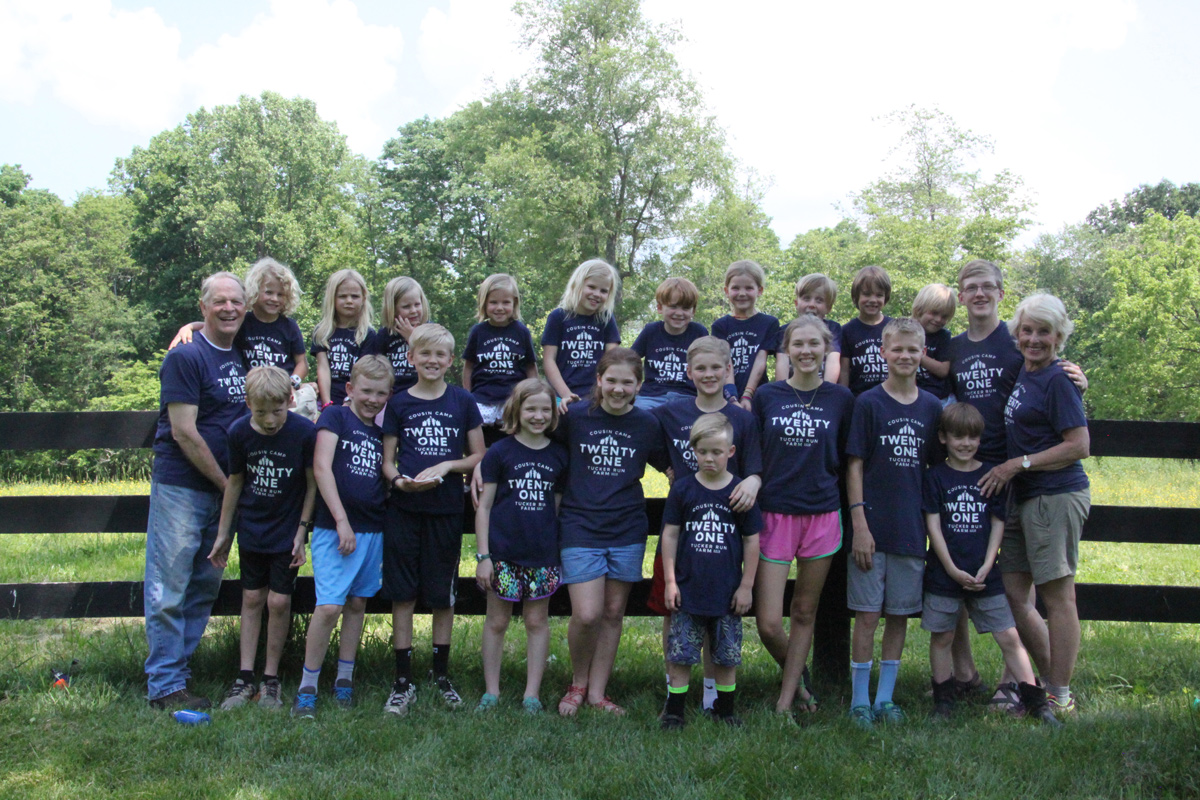 As I lay in bed on Sunday night trying not to wake the cousin asleep next to me, I couldn't help but think back on the past nine years of Cousin Camp. From the "fab five" in 2008 to the "terrific twenty one" this year, camp has always been a highlight of my summer.
Although I may complain about my role occasionally, I am so lucky to be the eldest. I've been able to watch all twenty of these little ones grow up, finally make it to age four, attend their first Cousin Camp, and end the weekend excited for the next year. These sweet ones are a huge part of my life, and I can only hope that as I head off to Charlottesville in the fall I won't be leaving this behind. I don't want to be a distant memory for the youngest two, but someone who is as important to them as they have been to me.
I'm so grateful that my grandparents instituted the tradition of Cousin Camp because it is the perfect way to ensure that there will always be a reason for us to get together, year after year.
---