Character is a hot topic in today's culture. How do we raise kids with a strong moral fiber in a culture with shifting values? What character traits are important? How can we impart to our children traits that we so often fail in ourselves? Character is not something that we parents "get" then " zap" our kids with. Instead, growing in character is a life long process for the whole family. Today we begin a series of blogs which I hope will encourage you as you seek to raise your kids with godly character.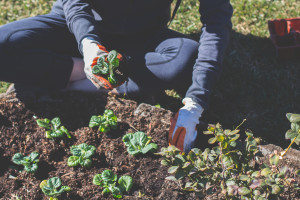 A deep blue sky laced with soft white clouds arches as a fitting canopy over his gorgeous garden. Everywhere bright colors reach upward as dozens of different flowers cover the hillside. A contended sigh escapes the lips of the gardener. There's pleasure in his eyes and a smile across his tanned, wrinkled face. Not wanting to break the spell of wonder, he stands unusually still as he takes in the beauty before him. Overcome with awe, his eyes rove from plant to plant. He feels a sense of special kinship with each one for he has carefully chosen and nurtured it. He has even placed it in just the spot that will enhance its own loveliness and yet contribute to the beauty of the whole garden. Its beauty is now his delight.
When the gardener first began to prepare this lovely garden, he knew that he wanted to create a thing of beauty. He expected his efforts to bring joy to all who would come in contact with it, and he delighted in his task. His garden would reflect the glory of the Creator and cause people to consider His goodness. Yes, there would be difficulties and disappointments, but he was not daunted. The fruit of his labors was well worth the task.
In a way, our families are like this garden. God wants them to be full of love and beauty, a refuge of security where there is an appreciation of one another. He expects good things to happen in our families, for He created our families to be as the French say "La petite eglise," the little church. Our families represent the union of Christ and us with the Father. "For where two or three come together in my name, there am I with them." (Matthew 18:20, NIV) Of course there will be difficulties and disappointments for families on earth, but God will be there in the midst of trouble. And as our families seek Him, He will be found, and He will use our families to reflect His faithfulness.
How often I seem to forget that God is the Master Gardener of my home. Too frequently I attempt to take His job. After all, there are so many good books on parenting today. And then I fail once again. I lash out at a child who was not at fault. I say something to my husband I shouldn't. I totally flunk the test of compassion. I feel sorry for myself because I let a friend down. And then I feel guilty because I should know better. So I determine to try harder. And I fail again. And finally I go to God and say, "I can't do it." And He cheers!
God knows I can't become the person I desire to be or raise my kids with the character He wants. Only He can do it. My frustration comes because I want to be God. It all goes back to the first garden, Eden. Adam and Eve got themselves into trouble because they, too, wanted to be equal with God. They wanted all knowledge and power. And I want that same power – the power that will ensure I raise the ideal family. Frustration comes because I don't have the perfect formula nor the power to make it happen. Only God does.
God's grace, not perfect formulas or competent parents, will build character in the lives of our families. My own failures will cause me either to become frustrated or to become dependent. Frustration says, "I should be able to do it." Whereas dependence says, "I can't. God, please, you do it in your way in your time in me and in my kids." God's power is perfected in our weakness (see 2 Cor. 12:9). That's why He cheers when I come to the end of my resources and turn back to His.
Integrity, a teachable spirit, self-discipline, compassion, a servant's heart, courage, faith and joy – these are the fundamental characteristics of moral character. We can only cultivate the home, seek to plant the seeds, and care for the plants. The development is up to God.