Character is a hot topic in today's culture. How do we raise kids with a strong moral fiber in a culture with shifting values? What character traits are important? How can we impart to our children traits that we so often fail in ourselves? Character is not something that we parents "get" then " zap" our kids with. Instead, growing in character is a life long process for the whole family. Today we begin a series of blogs which I hope will encourage you as you seek to raise your kids with godly character.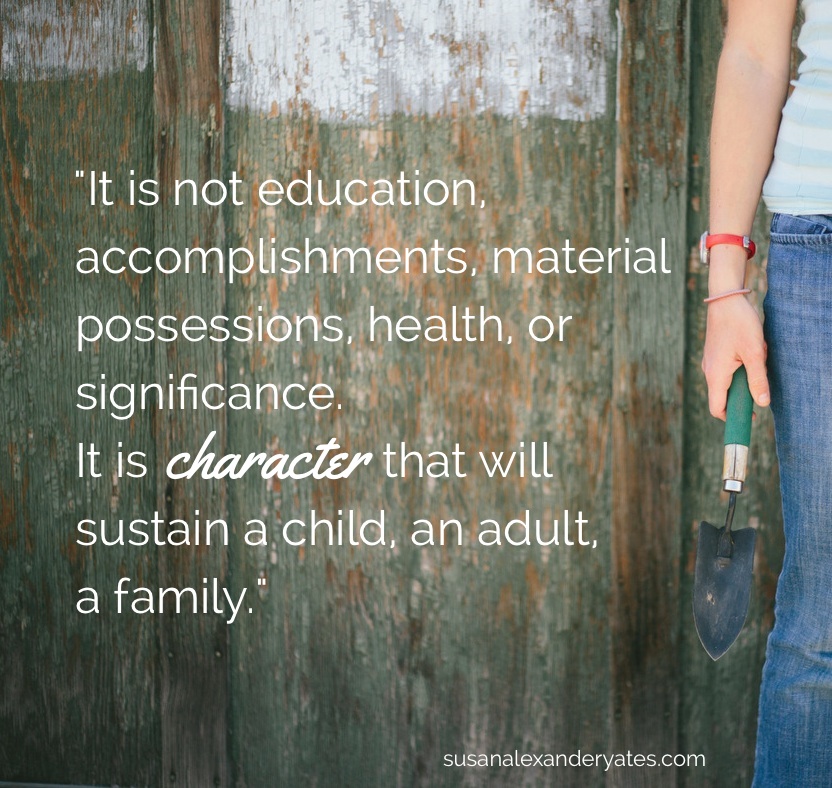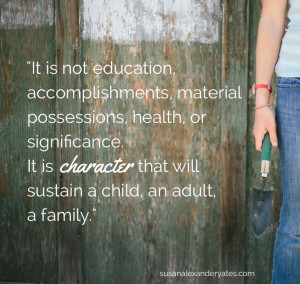 This blog is an excerpt from Raising Kids with Character That Lasts
Have you ever noticed how hard it is for political leaders to admit they have been wrong? There seems to be a deep-seated mind-set that it is better to maintain one's original position and not budge even if it is more and more apparent that the stand is a wrong one. Sometimes the denial is very subtle. A simple statement like "Poor judgment is used," instead of "I used poor judgment," is a subtle way of avoiding personal responsibility.
A teachable spirit begins with the realization that one is incomplete – intellectually, morally, and spiritually. None of us is all that we can be or need to be. The wise person wants to grow and is open to learn from anyone. Rather than seeking to justify his mistakes he wants to learn from them and therefore doesn't resent it when his errors or shortcomings are revealed. The teachable person realizes that he or she is "in process" and has a long way to go, the very opposite of self-satisfaction.
Our information-based society hungers for more knowledge and information, but the person I'm describing hungers not so much for knowledge as for true wisdom. The teachable person is humble before God and deeply grateful for God's mercy upon his life. He realizes that he has done much in his life to incur God's anger, and instead of punishing him, God has blessed him beyond anything that he could ever deserve. He goes through life with an underlying sense of thankfulness to God that enables God to develop in him the qualities of Christ-likeness. The fruit of the spirit – love, joy, peace, patience, kindness, goodness, gentleness, faithfulness, and self – control – can grow in the soil of a grateful heart but not in the soil of pride. A person with a heard filled with gratitude will be more likely to develop a teachable spirit.
Being teachable does not imply that one is a sniveling wimp just looking for somebody to straighten him out. Strength of personality and forceful opinions need not conflict with this quality. Some of the strongest people are also quite teachable because they know that as able as they may be, they still have much to learn.
We want to have a teachable spirit, and we want our kids to develop one. What components are there in a teachable spirit? How can we cultivate this spirit in our families? Four components of a teachable spirit stand out:
We Value Others
If we want to cultivate a teachable spirit, we must recapture the sense that every person is valuable. When we live this way, we become open to learning from any person.
God may choose the most unlikely people to be His agents of training in our lives. Perhaps a young child will speak wisdom to an adult. Maybe a troublesome relative is to be God's tool in teaching us. His choice could be someone we wouldn't ordinarily notice.
We Utilize Discernment
God's Word and God's priorities are our filters in learning how to discern between good and evil and how to make wise decisions. If we want to obey the Word of God, we must know what it says. There is no better way to know God's heart that to become intimately acquainted with His Word.
Making wise moral decisions is not always so simple as saying, "What does the Bible say about it?" The process of discerning the best course of action often involves careful thought, discussion, prayer, Scripture, common sense, and insights of wiser Christians of the past and present.
We Appreciate Perspective
Our natural tendency will be to spend time with people just like us. However, it is far more enriching for us and for our children to be with folks whose life experience has been different. Also, spending time with older or younger than we are also broadens our perspective.
Essential to appreciating perspective is reflecting on God's perspective. He is not limited by our views; He sees things in light of eternity. I find my own perspective restored when I consider the importance of my difficulty in light of eternity.
We Hunger to Grow
The way to develop our children's hunger to grow is to have a hunger in our own lives. But what if we don't have a desire to grow spiritually, in our marriage or in another way? Simply tell God. Ask Him to create within you a hunger. God wants our availability and will provide the means.
Valuing others, utilizing discernment, appreciating perspective, and maintaining a hunger to grow are four necessary components of a teachable spirit.
God will always enable those who want to be taught if we seek Him for ourselves and on behalf of our families.