One of our Cousin Camp traditions that's developed over the years takes place with the older kids (9 and up) on the outdoor patio after the younger ones are put to bed. We do different things each night–some very silly and some more substantive. John and I feel that one of our jobs as grandparents is to come alongside our children (carefully, in appropriate ways) to help them raise their kids. Grandparents can often get away with things parents can't! We are not as likely to get the roll of the eye and, "Ahh, Mom do we have to?" Kids usually respond more politely to their grandparents!
It's always been hard to train kids to be good conversationalists–from looking someone in the eye to knowing what to say. It's awkward. I remember my parents trying to train us 4 kids with seemingly no success but somewhere along the line we learned a little bit. It's even harder today because the dependence upon technology can stall the development of social skills. We fail to learn how to communicate face to face.
Below, my granddaughter Isabel shares a speech she recently gave to her High School Freshman class. I want you to read it. But first I want you to meet Isabel!
---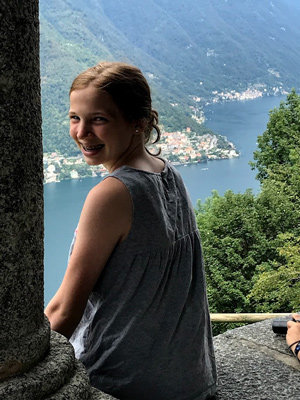 Hello! My name is Isabel Yates. I am fifteen and live in Raleigh, NC. I am a freshman at Saint Mary's school, and when not rehearsing for one theater performance or another, I can be found in the art studios, writing in a quiet nook, or at home baking. Recently, my time has been divided between games with my brothers that I am way too competitive for, practicing my calligraphy and hand lettering (yesterday I think I wrote the letter 'A' about 200 times), chaotic family and friend Zoom calls, and online video classes that I am still not quite used to.
I have been going to Cousin Camp since I was 4 years old and love every minute of the craziness! One of the many things we do every year that has left an impact on me is the little lessons Ghee and Poppy do for the older kids. At the end of each hectic day, after the "under tens" have finally been put to bed and read that third bedtime story, once the rest of us have been thoroughly rallied up playing Manhunt or Mission Impossible in the growing dark — when I am sure my grandparents just want to put their feet up and rest for a minute — Ghee and Poppy gather us all on the little patio for a lesson on scripture, manners, conversations, friendships (we never know what to expect!). They are always short and sweet, with some kind of practical application and always a chance to practice.
A few years ago, Ghee and Poppy did a lesson on how to have a good conversation. When I was tasked with writing a speech around the umbrella topic of healthy relationships for school, I thought it would be a perfect topic to dive into. I hope you all learn a little bit from it!
---
How to Engage in Conversation with the People Around You
by Isabel Yates
For introverts like myself, a room full of people three or four times my own age–with whom I am expected to carry on engaging conversations with–is, well, let's just say I'd probably rather be reading.
Now, being just shy of 5 feet, I pride myself on my hide and go seek skills–and in situations such as this one, I could probably be found under a table, in a cabinet, or behind a curtain, if not for the relentless "conversation training" from my grandmother. She has made sure that each of her 21 grandchildren knows how to carry on engaging conversations with adults, though some of us are better at it than others. We have all been taught the importance of connecting with people through the art of good conversation.
Have you ever tried to have a conversation with someone who was on their phone the whole time? Or had a person who asked you the same question every time you spoke?
A conversation where neither party is listening is fruitless and frustrating. On the other hand, talking to someone who is genuinely interested in who you are and what you have to say is both rewarding and encouraging.
So what's the secret? Believe it or not, there's no special guidebook but there are a few simple principles to remember.
1. Don't be afraid to take the lead.
Engaging questions are a vital part of a good conversation. That means questions that demand more than a one-word answer. For example, instead of asking "How are you?" try, "What have you been up to lately?" This simple shift requires the other person to vary from the vague "good" and extrapolate on what has been happening in their life.
Sometimes it's hard to come up with good questions, though. That's why my grandmother likes to tell us to always fall back on relationships, schedules, and experiences. For example, you are talking to an older lady you have never met before. The conversation starts to lag, so you ask, "How many siblings do you have?" (a relationship question) or better yet, "What is your favorite family vacation memory?" (an experiences question). The questions will vary of course depending on who you are talking to. For example, you would probably want to steer clear of the dreaded, "How old are you?" when talking to an adult but that question is perfectly acceptable with peers or younger children. Similarly, you probably wouldn't ask a five-year-old if they are married but for an adult, especially if you have already noticed a wedding ring, this question can open up a whole slew of conversational topics.
So just remember, when in doubt ask about relationships, schedules, and experiences. And here's the thing: people like to talk about themselves. Put in a few well thought out questions, and they will follow your lead.
You can't just leave it at that though.
2. Speaking well begins with listening well.
When someone is talking, you should be actively listening, building off of what they are saying and asking further questions. If you've talked to this person before, draw on your previous conversations. For example, say there is this little boy you babysit. Last time you saw him, he was telling you all about the basketball game his dad was taking him to. I am sure that if you ask him about it this time he will have plenty to say. I know conversations with little kids are different than adults, but it works the same way.
If you show them that you were actively listening the last time you talked and check back up on things, it will enhance your conversation and show them that you care. If your conversation is with someone you have never met before, just make sure you are actively listening to what they have to say.
Remember; speaking well begins with listening well.
Learning how to lead an engaging conversation is a skill worth having, as it will help you connect with people your entire life.
It definitely takes practice though. So every time I walk into that room filled with people three or four times my senior, I try to resist the urge to hide away under a table, in a cabinet, or behind a curtain. Instead, I try to engage with the people around me.