Recently a mom asked me what advice I would give her about allowances for her children and about the connection of allowances to family chores. It's a good question and one I've heard repeated over the years by many moms. And it's one we struggled with as we raised our five children.
About Chores
I found it helpful to separate chores from allowances. Why? Because having a chore is simply part of being a family. Everyone in the family needs to pitch in to help.
One day your child will need to do her share in an apartment she shares with friends. A son will have to help his wife. It's simply part of living in community. You don't get paid for this.
So in order to prepare them for the future we give our children chores now. The earlier you begin the better. A 2-year-old can help pick up toys. A 6-year-old can set the table. Kids can help cook, clean, take out the trash, and babysit siblings.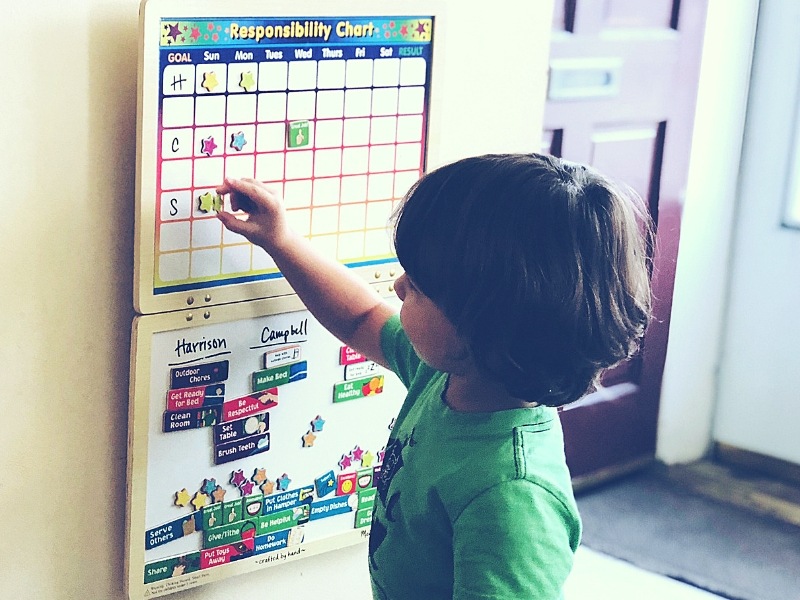 Once our kids began to read we started a weekly chore chart. As they got older they did it on the computer and posted on the refrigerator. Because there were 7 of us we had seven sections of the house that needed to be cleaned.
Chores could be done any time between Friday and 6pm on Saturday night. You could trade chores with another sibling. Bathrooms were a dreaded job. Of course the kids complained. But today my 2 daughters-in-law are really pleased their husbands know how to scrub toilets! Chores are a valuable tool in training in thoughtfulness.
Allowances & Financial Training
Allowances are also a valuable training tool. Once your child reaches the age of 5 you may want to begin an allowance, albeit a small one.
Give the child 3 envelopes- one for giving away (tithe), one for saving, and one for spending (now or later). Teach them to put at least 10% in their "give" and "save" envelopes and the rest in their spend envelope. It may be nickels but you are training them in wise budgeting, with an emphasis on giving first. As the kids get older you will adjust the amounts.
Allowances should not cover all their "wants." That's a bottomless well! And granting all their desires will simply promote selfishness. However, there will be times when they need extra money for that "special something."
Earning Extra
I kept a running list of extra chores for pay. Cleaning out the garage, scrubbing and cleaning out closets, polishing silver, etc. were some of those "extras" which I never seemed to get to and needed help with so these went on my extra chore list. When your child gets desperate for money, you can point her to this list. She can begin to make the money for her desire but it may take her longer than she wants. This can be a good thing, teaching her to learn to wait and to persevere.
Insights from a Friend
My friend Rachel is mother to five children ages 6-14. I asked her for her thoughts on chores and loved her insights:
It's easy to pass off chores as a peripheral part of a healthy childhood. After all, there is so much else for a child to learn. Developing skills like doing laundry, making a meal, or emptying the dishwasher simply do not feel pressing. And, the truth is, teaching a child to do a chore can feel like a chore.
However, I have increasingly come to believe that learning to work is even more fundamental to a child's ability to succeed than learning the ABCs.
Contributing to the work of a home, however small the task, is a child's first real encounter with being able to bring good in concrete ways to other's lives. Whether wiping a mirror clean, putting away silverware, or tidying toys, a child can begin to understand that they offer something lovely to the family through their effort. Work is an avenue for a child to practice being a giver.
Mastering a chore demands a child give attention and effort to what is before them. It is a wonderful way to develop core habits necessary for effective learning. Successful academic life begins with steady lessons outside of school. Participating in the work of the home instructs. It can teach, for instance, perseverance, precision, and adherence to measures of quality. Traits like grit and resilience grow with a broom and a dustpan.
No doubt, the process will be frustrating, for child and parent. But the fruit can be so sweet: families that serve one another well and habits of strength that enable a child to thrive as a student, both of academics and of the rest of life.
Family Work Day
At different times opportunities will present themselves to our families. The hurricane devastation in the Carolinas is an example. This is an opportunity for us to declare a "family work day" — a day in which we as a family can do a project, a bake sale, a car wash, odd projects with all donations going to a relief project. (The Anglican Relief and Development Fund is an excellent one.) Working together as a family simply to give all can be transforming for us and for our kids.
What if every family (or several families working together) set aside one day in the next month to do this for others? Not only would a nation be helped but also a family would be changed. And a culture might just begin to turn from being "me-centered" to becoming "other-centered."