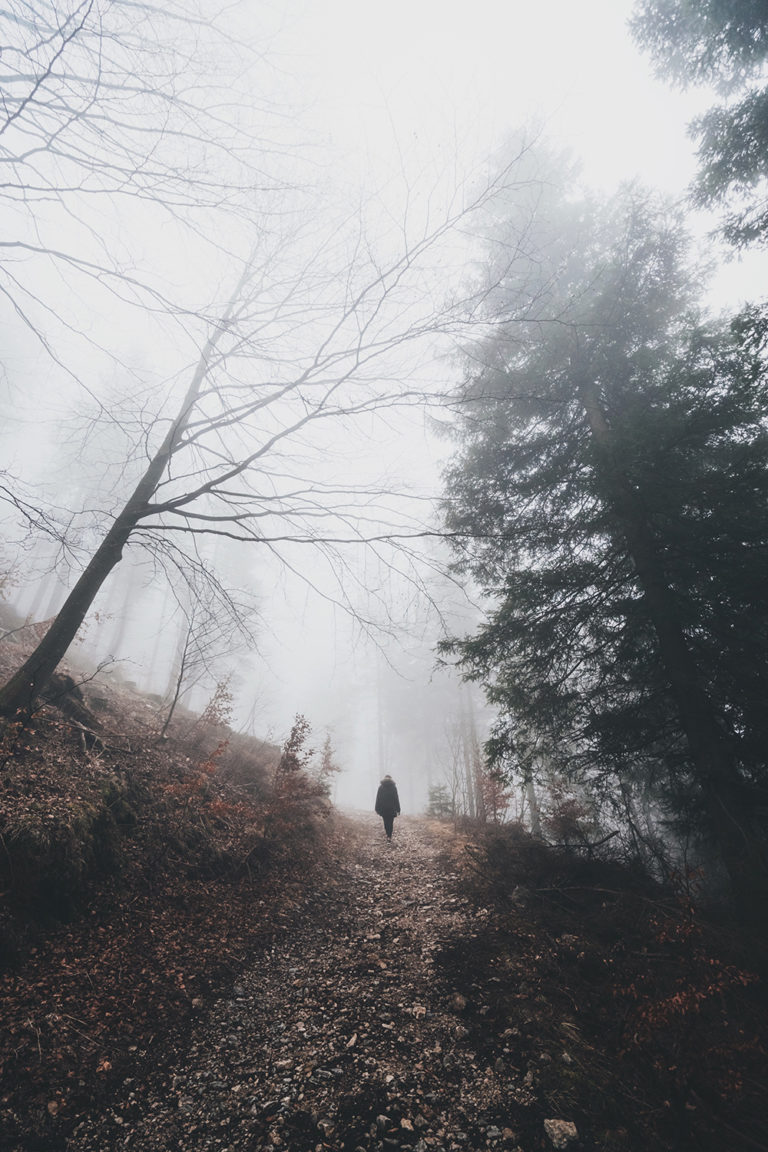 It's that unpredictable time of year weather wise. You may wake up to freezing gray skies scattering small snow flakes onto struggling spring plants but then 4 days later you arise to the sun pushing its way to a balmy 70 degrees.
Recently I went for a walk in the woods. It was one of those days when the temperature hovered at 32 degrees. Thick mist had settled into the trees intent on reaching the lowest ground. The humidity was nearly 100%. Would there be rain, sleet, or snow? There was no way to know. It was as if indecision produced fog. Thick encompassing fog – zero visibility. I could no longer see more than several feet in front of me. The woods I knew intimately had disappeared. No hint of light remained- just a thick fog.
Have you ever found yourself in an emotional, mental or spiritual fog?
Perhaps it's a fog caused by indecision or exhaustion or suffering. It may be caused by over commitment or burn out. A fog can come unannounced- a family member falls ill, a friend walks away from the Lord or from a spouse; we have an issue with a child we don't know how to handle. Clouds thicken and we can feel sad or stuck.
Fog is a natural part of nature and of life.
However there are rich lessons to be learned in the fog.
On my walk I was overwhelmed by silence. When I stood still long enough to contemplate the fog I felt as if I were covered in a moist, secure blanket. There was a sense of protection, of serenity, of peace. I simply wanted to remain quiet and take it all in. "Be still" the Spirit seemed to whisper.
I was reminded of Psalm 46:10. "Be still and know that I am God." How hard it is to do this in everyday life. I want to fix, to solve– to get out of the fog. Yet sometimes what I really need is to be still in the fog and to get out of God's way.
As I remained still in the fog I began to notice things I usually missed on my walks. Vapor collected in little pellets on a large branch, an amazing variety of different types of bark decorated the trees, thick moisture cleared my head and enabled me to breathe with freshness, and a small bird called out a love song to his creator.
"Speak to me oh Lord. Show me great and mighty things that I do not know and too often miss in the busyness of life." (Jeremiah 33:3, adapted). When we're in a fog we have the opportunity to open up to the Lord in new ways, and we just might hear Him say something fresh that's exactly what we need.
I really didn't want to leave my foggy stillness. I loved the quiet. But life called. So I began my way slowly down the trail. The fog was not lifting-yet. But I knew it would in time.
Even though I couldn't see the path stretched before me I knew it was there. He had allowed the fog and He was in it. When things are un-clear and doubts assail us we have to fall back on what we do know to be true. Jesus will never leave us or forsake us. (Hebrews 13:5b). He has a plan for us that He will reveal to us in His way, in His time. And He is working while we are waiting.
A driver caught in thick fog will dim his lights. The bright lights merely exacerbate the problem. A small light on the next few yards works best. Similarly, when we are in a fog we need only to take the next step. Forget what lies around the corner and simply move one step at a time. We can only see in part. But it's ok. God sees clearly. He has the whole picture in mind all the time. He is never in a fog.
In time, our fog will lift.
Dear Father,
Thank you that you reveal yourself to us in nature. Thank you for your fog which has reminded me to be still and soak in the stillness, to be reassured that you see clearly, to look for a fresh word from you, and when the time is right to take the next first step knowing that you see the path ahead with absolute clarity.
Amen.