Has your Thanksgiving become stale?
What? Stale? With all that good food?
It's not primarily the event or even the food I'm talking about but more the thought of being thankful. It sounds so ho-hum, so repetitive, and lacking in inspiration.
We tend to think of Thanksgiving as a family reunion, a time to celebrate, to watch football, and yes — to eat well.
It is all these good things, and yet it can be so much more.
This year it could become a celebration of Outrageous Gratitude.
You may not realize it, but the idea of a national Thanksgiving Holiday has deep biblical roots. Throughout the Old Testament we find many examples of thanksgiving celebrations. Our own Thanksgiving tradition began in 1621 with the desire of the Pilgrims, under Governor Bradford, to thank God for His provisions of the past difficult year.
We want to be thankful people. We want to raise thankful kids. We even want to be more thankful on a daily basis, not simply once a year.
Our intentions are noble and yet…
Why is it so hard to thank Him?
We're too busy. It's easy to think, I'll take time to praise and thank God when life calms down. The reality is life will never calm down. It only gets more complicated, more intense. We can become addicted to busyness. It gives an adrenaline rush until we crash.
We don't feel like it. I'm just not in the mood. Things are so hard right now. We assume we'll wait until we feel like it. Rarely will that happen and often it is when things are hard that we most need to praise God
We're lulled into taking things for granted. Including God's goodness. Too often I know I presume upon God. I take his blessings for granted. As parents we get frustrated when our children do not appreciate things. They just want more. In my relationship with God, I am so like my child. I expect but then fail to appreciate.
The enemy does not want us to praise God. One of Satan's tricks is to keep us from praising and thanking God. Why? Because thanking God is pure worship. And in worship the power of the Holy Spirit is unleashed. When we choose to praise God something powerful takes place. His supernatural comfort and peace are poured out within our hearts, even the most broken.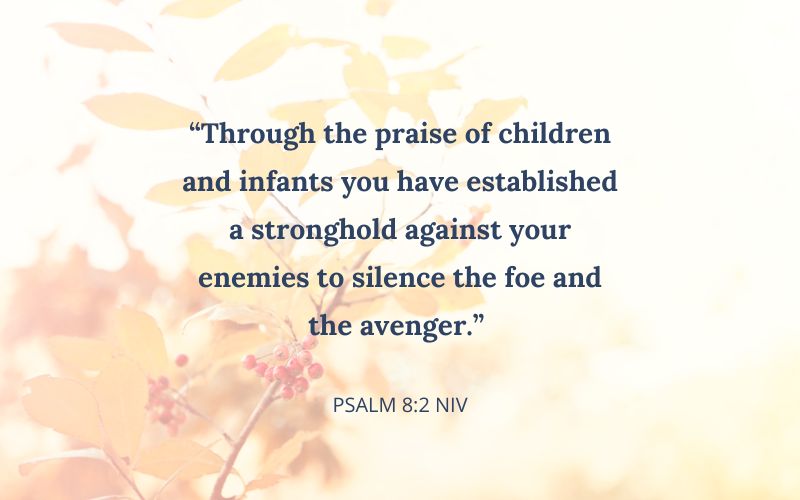 How can we grow our habit of praise and thanksgiving?
1. Recognize the Power in Praise
My grandson Cashel was about 8 when He memorized Psalm 8. With his example I have tried to memorize it as well and I have to do this repeatedly!
What I love about this Psalm is verse 2: "Through the praise of children and infants you have established a stronghold against your enemies to silence the foe and the avenger." (NIV)
This reminds me that there is supernatural power in praising God.
It is helpful to praise God in 2 ways — first, for who He is, His character traits. He is mighty, He is our shield, our strength. He is our Father who lavishes us with His love. (Ephesians 1:8). This is simply adoring Him for who He is.
A second way to praise Him involves thanking Him for what He has done. His financial provision, a new friend, a recovery, wisdom about….
2. Experience the Benefits of Praise
One of the benefits of praise is that in praising God we are lifted out of our own messes. I find it easy to become overwhelmed with all the needs around me and with my own inadequacies. When my thoughts tend to go to what I've done or left undone my disposition becomes cranky and my mood blue. The reality is that I am focused on me or on someone else who isn't behaving the way I think they should. My world has shrunk.
What I need to do is STOP and re-focus on who God is by praising Him. If I praise Him out loud it keeps my mind from wandering and I am more able to focus. Sometimes on a car ride I turn off the radio or podcast and simply begin to praise God out loud for Who he is and then thank Him for specific ways in which I have seen His provisions in the past several days.
In practicing this I find my spirits lift and my focus shift from "my stuff" to His goodness. Perspective is restored.
3. Let Praise Increase Your Faith
Recently John and I went out to dinner to celebrate our anniversary. During the meal we took time to recall specific ways in which God has provided for us during our lives. Many of our memories had to do with His providing for us through another person who gave us wisdom or insight or direction. It was a lovely time of looking back at God as our provider.
When we remember His provisions of the past with thanksgiving to Him, it not only brings us joy, but it builds our faith that He will provide for us in the future. It's all too easy for our faith to become anemic. Recalling his goodness helps our faith to grow, instead of shrinking.
Here are several Ideas to make this Thanksgiving one of Outrageous Gratitude:
🦃 Create a Thanksgiving chain (similar to a Christmas chain). Cut colorful strips of paper and let everyone write something for which they are thankful for on each strip. Tape them together and make a garland to decorate.
🦃 Provide Thanksgiving journals and take 7 minutes of quiet. Have each person write down things they are thankful for in their journals. Take turns sharing some of the things written. The journals are a party favor to send home to encourage each one to continue this practice.
🦃 Tape brown wrapping paper over your table. Arrange markers and let anyone write out thanksgivings on the "cloth" or draw pictures of things for which they are thankful. (Kids love this.)
🦃 Play old fashioned "spin the bottle." Use a large drink bottle. Someone spins it and the person it lands on shares something for which they are thankful. Then they get to spin it. Another variation: the spinner tells the person the bottle lands on something they appreciate about this person. And then that person spins it and does the same. (This is a simple means of affirming others.)
🦃 Share around the table where you have seen God's goodness in the past month.
🦃 Read Ephesians 1 or Psalm 145 and underline every trait of God or Jesus or the Holy Spirit. Which one means the most to you today?
May this Thanksgiving be one of Outrageous Gratitude for each of us!