I'm thrilled to have my friend Yvonne Lingo share her story today. It is a story that touches each one of us.
---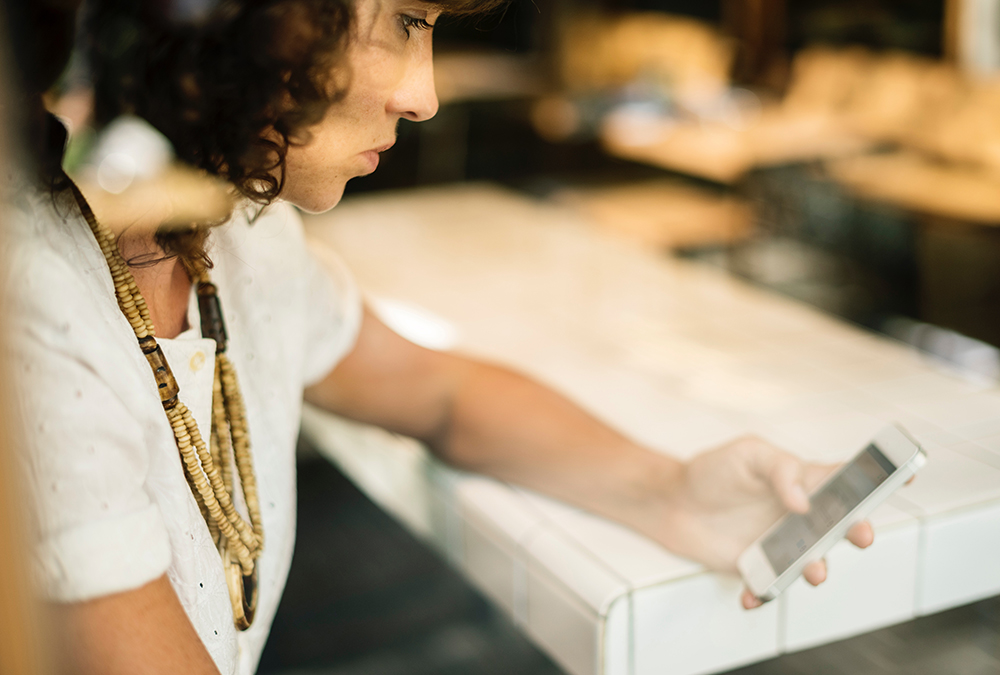 I'm done. I just deleted the Facebook app off my phone. Again. I've got to take a break from social media. It's taking over my life! I'm spending way too much time posting, thinking about it, and checking it a million times a day!

True confession. This has been my repeating inner monologue for the past 5 years. Yes, years! Then a week or so later the Facebook app reappears on my phone and I'm back battling all kinds of unwanted feelings—comparison, jealousy, discontentment and the most nagging feeling of all, overexposure. Can you relate? I mean, how long was I going to let social media invade my mind? My heart? Our family? My marriage? It started out so fun, finding friends and sharing pictures, right? Somewhere along the way sin crept in. I didn't even notice; it was so subtle. I started to notice that after I spent time on social media I was just plain crabby. It was getting ugly. I would say things to myself like, why can't we be doing that? Or how come her husband says all these nice things about her and mine never does. (By the way, my husband doesn't even have any social media accounts!) I was exhausted by it all and tired of trying to keep up or deal with the constant pressure of "showing our life off." I'm not trying to be overly dramatic but something inside of me just started screaming out, like I was suffocating. Honestly, I felt like the prodigal son who ran away and squandered his father's inheritance on cheap fun only to wake up realizing he was eating out of the pigs' trough. It got real.
Here's the thing, social media itself is not bad. I just gave it way too much power in my life. I allowed it to eat me up. And I forgot what life was like when things were kept private. You didn't know what everybody was up to on the weekends while you cleaned out your closet. Which by the way, you'd be shocked at the number of junk drawers my husband counted up in our house this year. It might have been close to 17, but that's beside the point! You get the picture. I don't know what the best solution is for balancing social media's influence over your life and I'm not saying cutting yourself off 100% is the right or only answer. Because let's face it, it's part of our world. We all live with it. For me, it is a heart issue. Social media started to compete with my time with the Lord. My heart got too crowded for Him.
On top of that I felt isolated with three little ones at home. Bottom line, I needed God to free me from the cycle of social media. When I decided it was time for a real break it was just after this past Christmas. I was scared I'd lose touch with friends or heaven forbid miss out on something fun and what would I do when I was bored? It was clear that social media had actually become an idol in my life. And idols are exhausting. I literally would look at my social media feed the second I woke up and it was most likely the last thing I saw before I went to sleep. I ran to it to fill those lonely and yes, bored places inside me as a stay at home mom who was missing connection with other adults.
God is really funny because the morning I unplugged from social media my phone rang. It was a friend seeing if we could get lunch. Later that same day, I got a text from another friend asking me to meet up at the park with our kids. Over time I started having real honest conversations with friends at the playground, my hair stylist, family and others about this crazy social media thing. I felt a new freedom inside. That feed on my phone seemed like a hollow replacement for real life. I discovered more time for the things that really mattered—sitting and watching my kids play without being distracted, sitting next to my husband on the couch and being present, and unhurried time with God. It was so healthy for me! Have I gone back on since? Yes. But I hold it a little looser, and I'm a little more wary of its influence. I thought I'd be missing out on something but the truth is I was missing out on something much bigger – God's merciful love and my own REAL life right in front of me!