Sometimes life hurts. In fact it stinks. It's oh-so-painful. A family member has just been killed by a driver who ran a red light; a child is in ICU; your best friends have decided to divorce; a prodigal is out of touch; a job is lost; or your life's dreams never materialized. It all seems so unfair.
Pain washes over us. A numbness sets in. We feel so alone. Hope begins to shrivel up as the roller coaster of emotions throws us for loops. Fears overwhelm us. We wonder and worry: What if _____ happens or doesn't happen? Our imagination goes wild — stimulated by fears.
This happens to most of us, many times during our lifetime. And it doesn't get easy. Ever.
So what do we do in times like this? How do we persevere? Where do we find comfort?
Because I'm older, (a grandmother!), I've lived long enough to have experienced much pain in my own life and in walking alongside friends in crisis. Along the way I've discovered a few things that have helped me navigate these seasons of hurt.
1. Life is hard, for everyone.
It's easy to forget this when we look at her photos on Instagram. She looks so perfect. Her family seems together. She is happy and has everything. Really?
Behind every photo is someone well acquainted with pain or even in serious pain while she posts. It's an illusion. Suffering is a natural part of life on earth.
When we are in great pain it's easy to feel alone in our suffering, to say to ourselves, No one else has felt like this. But they have and there are many situations worse than ours.
We are not alone.
2. We don't live in heaven now.
Instead we live in a fallen world. A world infected with sin, sicknesses, and unspeakable horrors. We were not created for this. We were created for heaven. And so we long for something more. The scriptures say we groan. (Romans 8:22-25) One day He will wipe away every tear (Revelation 7:17) and all will be made right.
3. BUT there is comfort. Where? How?
Jesus understands our pain.
The scriptures tell us that when He was on earth, He experienced everything that we will, yet without sin. (Hebrews 2:17-18; 4:14-16) Physical pain, loneliness, misunderstanding, rejection, a sense of failure-the list goes on. Because of this He is able to comfort those who come to Him in any situation. He understands. (Psalm 147:5)
When Jesus's friend Lazarus died, He wept. He even knew he was going to raise him from the dead yet still he wept. I imagine he wept for his own pain for his friend but also for Lazarus's sisters Mary and Martha and the many friends who were grieving. He weeps with us. That's empathy.
God comforts and redeems our pain.
Paul tells that He is the God of all comfort who comforts us in all our troubles so that we can comfort others in their troubles. (2 Corinthians 1: 3-7). When we suffer in a specific way, we will find a deep comfort by spending time with someone else who has experienced a similar situation.
And our pain is strangely redeemed when we reach out to another person who is hurting. Joni Erickson Tada, a quadriplegic for 50 years, has much to say on suffering. It's worth reading her books and sharing her story with your children.
Paul tells us, "God will use all things (even the tragic things) for good for those who are called according to His purpose." (Romans 8:28) Ask Him to show you the good that has come from your hurts. It may take time to see them, but God has lots of time.
Refreshment comes when we get away from our issue, even briefly.
A mother shut up with several toddlers in the bleak midwinter needs a break. Get a babysitter and go to a happy movie with girlfriends. Visit a museum. Go for a walk in the woods. It's easy for our own world to shrink in the middle of a hard time. We even forget what day it is.
My friend sat by her husband in the hospital for over 2 weeks. The hospital walls closed in. She needed a break, so she went to her kid's school and read stories during story time. This simple event refreshed her soul because it got her away from her situation for a time and enlarged her world.
I often think of Jesus's words after he raised a little girl from the dead. He said to the parents, "Give her something to eat." (Luke 8:55.) Jesus is practical, and we can be too.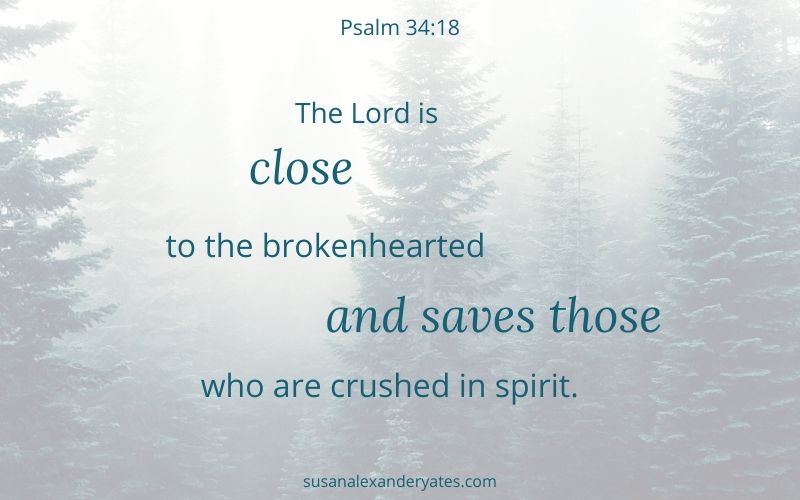 God's word gives us perspective.
In my own life I find it's so easy to let my current issue (or pain) grow bigger in my head than my God. What I need is a shift in perspective. I need to remember how big God is. And so I turn to the Scriptures, particularly the Psalms.
I love the Psalms because David, who wrote many of them, is so honest. He gets angry at God. He feels lost from God, but in his anger and hurt he always turns back to who God is and dwells on His character.
For many years I have read a Psalm every day. It's helpful to use a paper Bible instead of a device for your daily devotions. Underline verses that speak to you. Ask God to show you one character trait of His to focus on that day. Throughout the day reflect on this trait.
Today my trait is: He is close. Psalm 34:18: "The Lord is close–(as in super glue- stuck tightly to you close) to the brokenhearted and saves those who are crushed in spirit." I need to meditate on the fact of his closeness today.
A few years ago our family was in a hard place. Our grandson needed a liver transplant. We didn't know if we would lose him. Many friends gathered overnight in the hospital chapel to pray, sing and encourage each other as we awaited updates from the surgery in progress. One thought was uppermost in my mind. Jesus is Immanuel. God with us. This reminds us that there's one thing we can never ever lose — His presence — Immanuel.
Ours is a "with you" God every moment, every day. No matter what.
This is supreme comfort.
This is hope.
If you're walking through a painful season right now, hold on to and meditate on these verses:
Have I not commanded you? Be strong and courageous Do not be frightened, and do not be dismayed, for the Lord your God is with you wherever you go" Joshua 1:9

For I am convinced that neither death nor life, neither angels nor demons, either the present or the future, nor any powers, neither height nor depth, nor anything else in all creation will be able to separate us from the love of God that is in Christ Jesus our Lord." Romans 8:38-39.
You may want to spend some time in these passages, too:
Psalm 139:1-24, Psalm 145:1-21, Psalm 121:1-8, Psalm 40:1-17, Isaiah 43:1-5, 1 Corinthians 10:13, 2 Corinthians 1:1-24
Save this post!