John and I will celebrate 52 years of marriage this August! I know, that seems crazy to us because we don't even feel that old ourselves. In my head I still think I'm 38. (But then I look in the mirror, yikes!)
We were best friends in college but never dated. He always had girls after him, so I was just happy to be his "sister." It was not until we'd been out of college for a year that God began to work in our hearts. I tease him that it took him long enough to hear God! After a very short, long-distance romance we got married.
We already knew each other very well. We thought.
We soon learned that we didn't know each other nearly as well as we thought we did. Nor did we know ourselves very well. But God knew each one of us and He's had lots of time to train us in how to fit together. And we are still learning.
One frustration in marriage is that "becoming one" is not neat or instant. It can be messy. We are both growing and changing. And we will be until we get to heaven. But that's the fun of being married. You never quite get it all figured out. That would be boring. Instead it's like a huge jigsaw puzzle that never gets finished this side of heaven. However, God designed marriage and He has the final picture in mind.
Over the years we've spoken and written a lot on the topics of marriage and family. I've been asked,
What is it that you admire in your husband?"
It's easy to answer this question. The thing I've always admired the most about my husband is the fact that our entire married life he's gotten up early in the morning to study the scriptures and to pray for me and the kids.
If you were to ask any one of our five children they'd probably tell you the same thing. Many mornings little feet would tumble into his study. Crawl in his lap, see their name and picture in his prayer notebook, and his heavily underlined and marked-up Bible open. We all knew when we woke up where he was and what he was doing.
He isn't impressed by the fact that he does this. (He will be embarrassed to read this.) He simply knows He needs time alone with the Lord and that He is called to pray for me and the kids.
Over the years this habit has given me security. In the hard times, the good times, the uncertain times I know one thing is certain: my husband is praying for us. He is trusting the Lord and finding comfort and wisdom in Him.
This brings me abundant security and peace.
A number of years ago he was encouraged to write a simple book for men describing his prayer plan and how he does it. It's easy for men to feel overwhelmed by the idea of a regular prayer plan. Even the wisest man sometimes feels out of his depth in knowing how to love and provide for his family.
Recently we have published an updated version of this simple book. It's meant to be a guide for a husband, father, or grandfather. It's brief, honest and practical.
It's written for men who want to love their families well.
I want to share it with you. Perhaps you know a man who would benefit from it.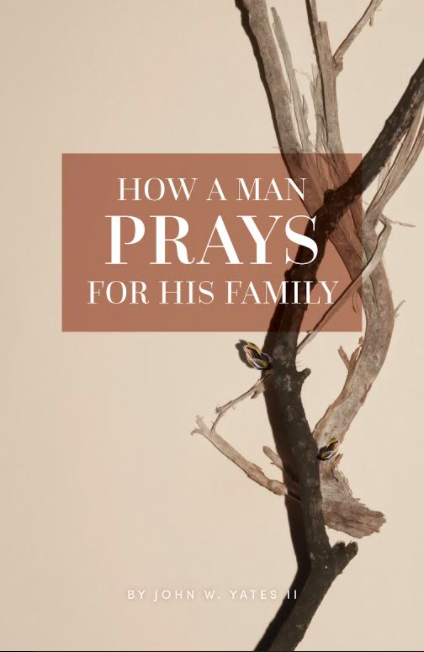 Today all 5 of our kids are married and we have 21 grandchildren. As grandparents we know how important it is to pray for our kids and their kids. Raising kids today is particularly challenging!
Parents need lots of wisdom. Often we find ourselves praying for wisdom for our kids as they parent. A promise from James encourages us,
If any of you lacks wisdom, you should ask God who gives generously to all without finding fault, and it will be given to you." (James 1:5)
Sometimes I act as if He parcels it out in small bits. But God is not frugal. He's generous.
He's generous with forgiveness, with love, with compassion, with guidance. He longs for us to come to Him. He never gets tired or weary of us. He is saying to us today,
Come to me on behalf of our kids, your grandkids, others whom you love. I will hear you and answer you, in my time and in my way."
"I love the Lord for He has heard my voice and my plea for mercy."
Psalm 116:1
With love from our crazy family to yours!
Save this post on Pinterest: