Envy and Jealousy.
Every one of us is tempted by these two destructive attitudes. Parents and children alike.
These feelings are often found in what I call the "comparison trap."
It might go like this:
I wish I had a house like hers. She has a good marriage and well, mine stinks. He got the promotion I deserved. I wish I had a husband like hers. They have a bigger income and an easier life and mine is hard."
Or from our kids:
He got the latest PlayStation, and I didn't. She has a new iPhone, and I don't. Their parents give them things and ours can't. She has more 'likes' on her Instagram."
The issue here is that we want what we don't have. We want more. This desire goes all the way back to the garden of Eden. Adam and Eve had everything but wanted more.
Our greed lies at the center of our sin nature.
It pokes its head up in the most irritating ways, spewing nasty thoughts into our heads and cultivating a negative spirit within us.
So how can we overcome these negative traits?
These six tactics will help:
1. Recognize this tendency.
Ask God to show you when you are falling into this trap. Simply identify this sin, confess it, receive forgiveness and ask Him to change your heart by the power of the Holy Spirit. This is the first step. (I John1:9)
We will have to do this over and over. There is not a quick nor permanent fix, however we can grow in this area.
Ask God to reveal to you the heart of your child. Ask Him to show you how to nurture positive attitudes within his heart rather than discontent. (James 1:5)
2. Cultivate gratitude.
We had some of our kids and grandkids with us for New Year's Eve. We wanted to make this evening one of celebration. Each person brought their journals to the table and over dessert we took 6 minutes to be completely silent and write down as many things as we could think of for which we were thankful for from 2020.
The goal for the eight of us was to have at least 100 total. However, our 11-year-old granddaughter came up with 46 of her own. We took turns sharing some of what we wrote around the table. It was a precious time of reflecting on God's goodness in a very difficult year
3. Spend less time on the internet and social media.
When we browse sites that show stuff we'd like to have it increases our discontent and makes us jealous of those who have the luxury to order whatever they desire. We wish we could too. Discontent. Ask, Is my browsing causing me to be discontent or to be thankful? What is it doing for my child?
It's not just shopping; it's also social media. Too often the family that looks perfect on IG or FB most likely has unfilled desires. There can be a sad person behind every perfect-looking face or family. You don't know their story. No one has it all together. No one is completely satisfied.
4. Rejoice with those who rejoice.
Romans tells us, "Rejoice with those who rejoice; mourn with those who mourn." (Romans 12:15) We're better at weeping with those who weep than we are at rejoicing with and for them.
We must learn to rejoice with others. And we need to teach our kids to as well. So when your teen says, so and so gets to . . . why can't we? or I wish we could . . . Simply say, "That's so great. Let's be happy for him and his family. This is wonderful for them. Let's rejoice with and for them. Let's be excited for them."
5. Get some perspective.
Most of us living in the first world are rich. We have a roof over our heads and food to eat. Yet we are raising kids who don't realize this as they compare their own situation to someone with "more."
We need a little perspective here. Take your kids to serve in your community. Adopt a family who is in genuine need. Study a country where there is genuine poverty.
Have your kids research persecuted Christians or orphanages and become involved in helping. It's a lot healthier to spend time on the internet doing something like this than looking for things you want.
6. Realize that your "want/wish" bucket will never be full.
It has a permanent leak. There will always be something bigger, faster, and better that we or our kids will want. I imagine some of their Christmas gifts have already been totally forgotten because there's something better out there.
Let's live this year with a fresh determination to ditch envy and jealousy — to become people of gratitude, rejoicing in Who our almighty God is and in what He has already done for us.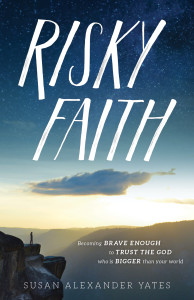 PS: For more on this topic, check out my book Risky Faith, especially chapter 4. Order your copy here.