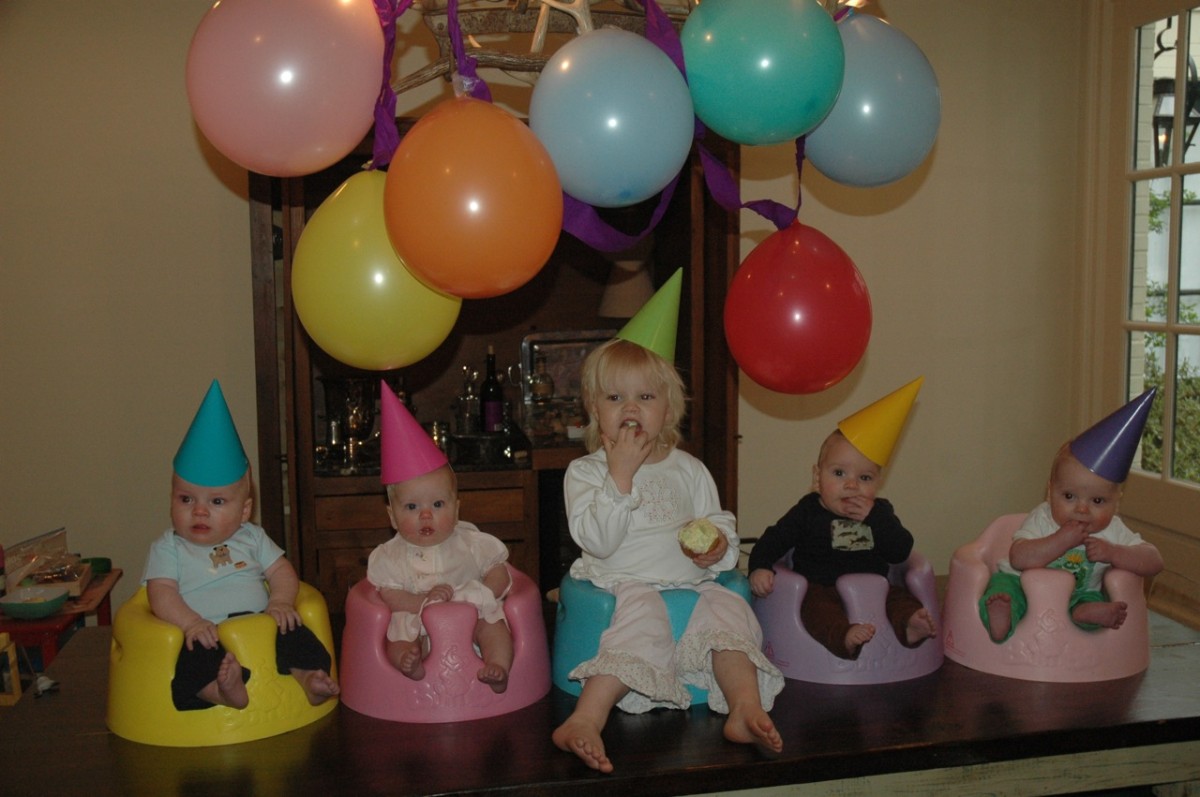 Our daughter Libby (who is a twin) gave birth to quadruplets last fall. When they (one girl and three boys, all fraternal) were born, her oldest daughter, Grey, was not quite two. Suddenly this 31-year-old was the mother of five children under the age of two! Yes, life has changed forever!
Now that the quads have turned six months old, we asked Libby to share what life with quads is like with all of us by asking her to answer six questions others often ask.
How do you do "it?" What's "it" like?
I've learned to take one day at a time. I have to wake up every morning and think, today is a fresh morning. I get to start all over. This perspective helps.
I've also learned to accept help. This has been hard because I know I can never pay folks back — like the friend who has already cooked five complete meals for me and another who just made 200 ounces of organic baby food. Receiving is hard for me when I know I can't do something for them in return. But what I've seen is that permitting them to be involved with our family is a blessing to them. I have to hope they are helping us because they want to, and I have to trust they are blessed by it. I have to choose to believe people want to help and let them be a part of our family. In the process, we have gotten to know some wonderful people we otherwise would not have known. And we have a wonderful nanny, Kiersten, who helps me during the weekdays.
I've also had to recognize my limits and learn what I need to make it through the day. For example, exercise is crucial for me, and I listen to worship CDs as I exercise. And a brief time (even as I pump!) in devotional time is crucial.
I've learned to listen to and accept crying as a part of the normal sounds of my house! I have had to get used to it! It's actually harder for Grey (age two-and-a-half), who often rushes to comfort a crying baby.
What fears did you have before they were born and how have you seen those allayed?
Of course I was most afraid for the babies' health. I know and appreciate the miracle of their birth and their health.
I was afraid I would not know how to love each one as much as I love Grey. I'm still in process with this. There are so many of them, and with different folks helping, I don't have the time to focus on each one as I did Grey. So bonding naturally takes longer.
I was concerned about how this would impact our marriage. But I've seen that McLean and I have a better partnership than we ever imagined. I could not do this with anyone else, so we see even more now why God put us together.
Another fear was that I couldn't spend enough time with each child. And I can't! Instead, I have to remember that God will provide what each child needs. The children get lots of attention from others, but they will also learn to be dependent on each other. I've assigned each child one day of the week. That day, I try to spend extra bonding time with that child, and I try to pray more throughout the day for that particular child. So Grey is my Monday child, Mimi is Tuesday, and so forth.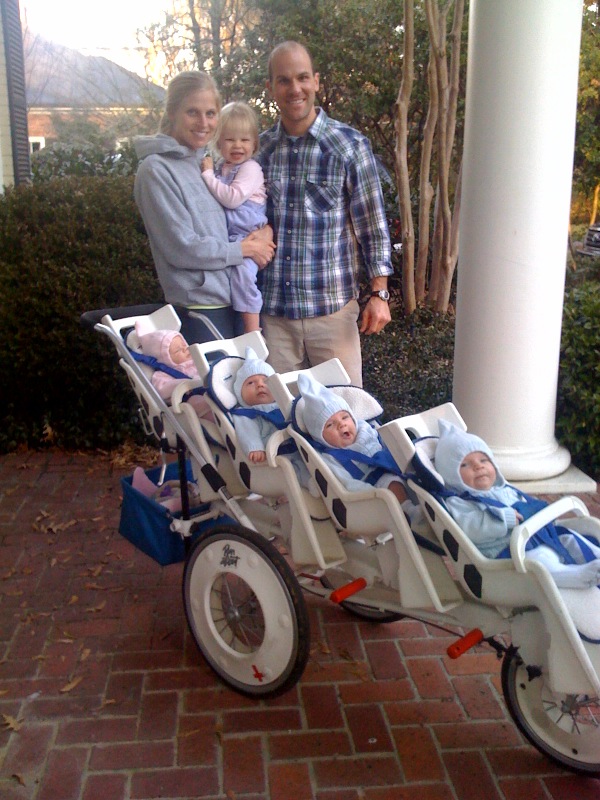 What's the hardest time of the day right now?
Definitely 5:30 – 7:30 p.m. Everyone is awake, hungry, and crying and also grumpy — including me!
What have been the biggest challenges so far? What little things have helped these challenges?
It's been hard to have people in my house all the time and not feel like I have space or alone time. What helps is remembering that this is how I bless them: by letting them be a part of our lives.
It's hard not to lose my temper with the babies. I have to remind myself that they are babies. They are crying because they need something — they aren't trying to irritate me! Crying is part of the normal sound of our house in this season.
I can't multitask in the same way I once did. Sometimes I just have to stop what I am doing and take care of a baby. And I have to be flexible. This morning I went for a walk with the babies at 6:20 a.m. My husband wasn't feeling well and needed to sleep, so I had to get fussy kids outside. It also helps to simplify. I don't put babies in pj's. They just sleep in what they already have on. They don't get a bath every day.
It's hard not to lose patience with my husband, McLean, especially when it's just the two of us during the dinner hours and early morning hours (as well as throughout the night!). We have made a deal not to take anything personally at these times — to ignore what each other says or does as much as possible. Our rawness doesn't have anything to do with us; it's more about the exhaustion and the time of day with its unique demands.
I can't get things done the way I once did. I have to lower my expectations, as well as be creative. When I go up or down the stairs, I always carry something like laundry. The babies are all in the same room, which helps. I shop online. Many places have free delivery. I let Grey help with feeding and changing babies.
How do you protect your relationship with Grey in the midst of all the demands of her siblings?
Every day, I try to take her outside for time alone with her. I've also realized I can let a baby cry and spend five minutes reading to her. It will not hurt the baby. I'm trying to let her make more decisions — like what she wants to wear, or what baby she wants to change. She loves the babies and likes to help change them. The other day, one of the boys squirted her right as she was changing him. It was hysterical. Often if she hears one cry, she'll respond, "Oh, Mimi, you are fine. I am right here." She recognizes each cry and can tell you exactly who it is and what they need. (Typical bossy older sister!) I've learned to relax and not worry if things aren't done right. It's okay. On weekends, McLean and I tag-team with Grey for special outings with just her.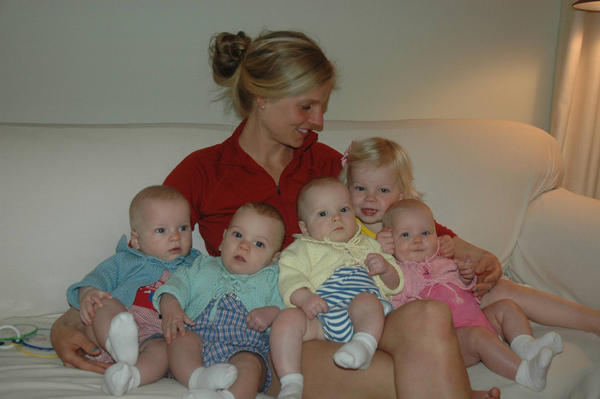 How do you and your husband ever find time together? How do you keep your marriage intact?
Honestly, it's hard to get out alone. It can take three sitters! We've probably had five dates since they were born. But we have tried to keep each other as a priority. On weekends, we take turns in the mornings so each of us can have a break, and then we spend couple time together during afternoon naptime. The biggest thing has been that we are growing in learning new ways to help each other. We have to do this together. So if I sense he's about to "lose it," I tell him to go for a run or take a night off and go out with the guys. He does the same with me. Now we have to live what we used to talk about marriage-wise; we have no choice! But the blessing is that it's taking us deeper. It's refining our relationship. And we're helping each other become the best at what we do now. This is almost more valuable than going out on a date. It's real life. We have to keep talking constantly about how to love and protect one another, even in the middle of chaos.
What are some things you are learning from the Lord?
I'm not in control! He has purpose for everything. Life is easier when it's what you expected or if it's what makes sense. But it's harder to see the purpose when it's not expected. I have to remember that God is sovereign; He's intentional. He has had this plan since I was born. He has been preparing me my whole life to do this. I'm learning to give grace to myself and McLean more. I can't do everything or respond in the way I want to and neither can he. I'm learning to let go of wanting life to be what I want it to be like, especially in the little things. And I'm learning in deeper ways that it is faith and family that really matter.
What have been some funny things that have happened recently?
Some of the funniest things happen when we go on walks. If a car goes by, it often stops and reverses, and the driver stares in amazement! It's not unusual for people to ask if they can take our picture! Just this week, a woman at a park came up to us and, pointing to the babies in their stroller, exclaimed, "Are those for real?" "Yes," we replied. "We had quadruplets six months ago." "You mean you got three babies?" "Well, actually we had four babies."
Listening to Grey talk to the babies always makes us laugh. Recently we heard her say to one of the crying boys (in her little toddler voice), "You'll be alright. Your bottle is coming soon."
Watching them interact as their individual personalities become more evident is also hysterical. We might see Fitz sucking on Yates's hand or Mimi trying to climb over Mac. I've noticed that two of them are more laidback at meal time and two are greedy, so I feed a greedy one and a laidback one at the same time and watch them watching each other.
We try to laugh a lot. It's easy to forget to do this when things get monotonous and exhausting. Having others visit who laugh at our household is a big help. We try to remember that this is a short season, and we don't want to miss anything!