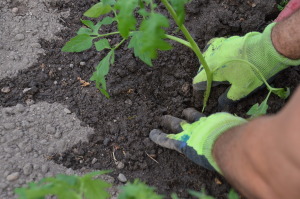 The old gardener crinkles his nose as he bends over to smell the soft pink peonies. A wonderful sweet fragrance seems to surround him, and he wishes he could bottle it up and take it home. Surely no man – made perfume can match this heavenly scent.
Straightening his bent frame, he glances toward heaven, ever mindful that he is but a tool in the Master's hand. He knows that God creates the seasons. He designs the plants – each one so different and yet so perfect. He is a God of detail and He makes no mistakes. Knowing the needs of His creation, God brings the rains and the sun to provide nurture. Often God's ways and His timing seem curious to the gardener, but he knows that what God does is best. The gardener simply delights in the fact that he has been chosen to discover, to enjoy and to make beautiful what God has already created.
How often I seem to forget that God is the Master Gardener in my home. Too frequently I attempt to take His job. After all, there are so many good books on parenting today. Plus, I come from a strong Christian family myself, and I married into one as well. I've listened to numerous tapes and speakers on the family. Surely I should have this down pat by now.
And then I fail once again. I lash out at a child who was not at fault. I say something to my husband I shouldn't. I totally flunk the test of compassion. I feel sorry for myself because a friend let me down. And then I feel guilty because I should know better. So I determine to try harder. And I fail again. And finally I go to God and say, "I can't do it." And He cheers!
God knows I can't become the person I desire to be or raise my kids with the character He wants. Only He can do it. My frustration comes because I want to be God. It all goes back to the first garden, Eden. Adam and Eve got themselves into trouble because they, too, wanted to be equal with God. They wanted all knowledge and power. And I want that same power – the power that will ensure I raise the ideal family. Frustration comes because I don't have the perfect formula nor the power to make it happen. Only God does.
God's grace, not perfect formulas or competent parents, will build character in the lives of our families. My own failures will cause me either to become frustrated or to become dependent. Frustration says, "I should be able to do it." Whereas dependence says, "I cant. God please you do it in your way in your time in me and in my kids. " God's power is perfected in our weakness (see 2 Cor. 12:9). That's why He cheers when I come to the end of my resources and turn back to His.
The lovely fragrances permeate the entire garden, the natural result of the Master Gardener's work. An unseen presence reflects the beauty; the old gardener can't produce the fragrance. He can merely cultivate a garden to produce it. Yet as the fragrance spreads, others are drawn by its loveliness to view the beautiful garden.
In a similar manner, when we fall back on the Master Gardener, His love will be a fragrance in our families, and others will be drawn to Him. "But thanks be to God, who always leads us in triumphal procession in Christ and through us spreads everywhere the fragrance of the knowledge of him. For we are to God the aroma of Christ" (2 Corinthians 2:14-15, NIV).
Integrity, a teachable spirit, self-discipline, compassion, a servant's heart, courage, faith and joy – these are the fundamental characteristics of moral character. We can only cultivate the home, seek to plant the seeds, and care for the plants. The development is up to God.
Dear Lord,

No human advice or wisdom or gallant efforts will be able to bring about the character in my family that you desire and that I want. Only You, O Lord, can do that. Once again I relinquish myself and my family into your hands. Make us what you have created us to be. And help us to be a reflection of your faithfulness.

Amen.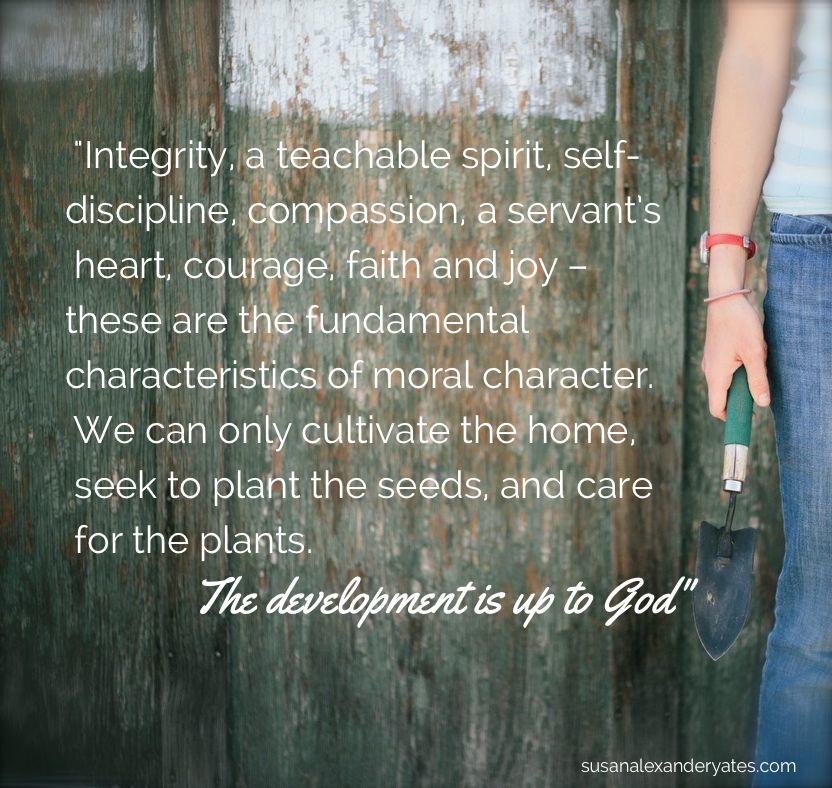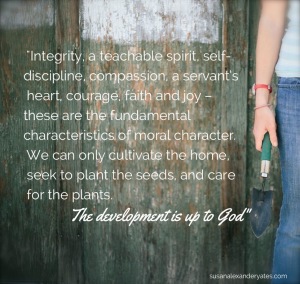 An excerpt from Character Matters by John & Susan Yates