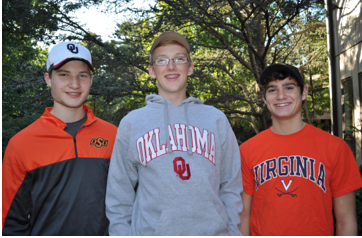 We had five kids in seven years so when they reached high school my husband and I felt like we were in a constant state of getting somebody ready to leave! Just as we were moving one into a dorm, we were looking through college catalogues with the next one.
And it all happened too fast. "Yesterday" she was a baby in arms. Today she was packing her room. I wasn't sure I was ready or that she was ready! But ready or not…
I've found that when that first child reaches high school our mind turns to college plans or post high school jobs. Internally we begin a countdown. Our time left with them is limited and we wonder, "Is my child going to be ready to leave? Will I be ready? What do we need to do this year to get them ready?
Four things will be helpful as you prepare your child to go:
Turn over personal responsibilities.
By our child's sophomore year he or she should be doing his own laundry. During his first year in college, my friend's son called home,
"Mom, he exclaimed, why did my t-shirt shrink and turn blue when I washed it?"
Because his Mom had always done his laundry, he didn't know about separating colors or cold water. Our kids will have enough new things to learn on campus. They don't need to stress over small things like laundry. Let them learn at home!
Our seniors should be making all of their own doctor's appointments and keeping them. If they get charged because they forget the appointment, it's up to them to re-schedule and to pay any fees.
Train in financial management.
By their junior year in high school, our teen needs to maintain a balanced checkbook. If they have a credit card they must abide by the rule of paying it off completely each month and understand the ramifications of interest if they don't. The same is true of debit accounts; they need to know their limit and not rely on overdraft protection. Learning to tithe and save is essential. It is also important to sit down and write out what the parents will pay for and what the child will pay for these last 2 years at home and especially in the first year of college. If a child is taking a gap year or entering the market place agree together and write down the financial expectations for both the parents and the child. This will help avoid misunderstandings in the future.
Reinforce the importance of manners.
Our teen may go home with roommates, have a job interview, or ask an adult to write a recommendation for them. All of these involve work on the part of someone else. And these people need to be thanked. The director of Youth Ministry at our church told me that he has written approximately 25 references for high school seniors this year. However, He received only 6 thank you notes for doing this. This is a sad commentary on our "entitled culture." Good manners demonstrate the character traits of thoughtfulness and respect, both of which are crucial life skills.
Encourage your teen's faith.
Begin the college search or the post high school plan with prayer. If college is the next step, make a list of possible schools and pray that God will show your child His choice for them. Have siblings join in as you pray together for His guidance. A rejection letter might lead your child to God's best "other place."
During this senior year encourage your teen to participate in youth ministries that will help prepare him for college. And be sure to attend a fellowship meeting on any campus you are considering.
Approach this last year with a sense of celebration and confidence. Yes, you will be sad when your child leaves. But be excited for your teen's next adventure. Communicate, "I am confident in you," even if you, the parent, are scared and uncertain. You child most likely has mixed emotions as well. However, he needs your confidence.
Independence and confidence grow gradually and as we take steps this year to equip them they will make strides in both areas.
Letting go is hard for us the parents. We have to remember that God is not letting go of our child. He is going with them and He will continue to redeem their mistakes and to grow them up.
Our job is to pray and to trust our heavenly Father who loves our child even more than we do.