I'm thrilled to have my friend Amy Julia Becker guest blog for me today. I highly recommend her books – authentic, beautifully written, and encouraging. You will love her and her writings. Her books would make great easy inexpensive Christmas presents!
---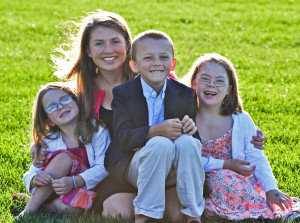 My favorite phrase from a Christmas hymn comes from "Joy to the World." It's early on in the first verse: "Let every heart prepare him room." I noticed that line ten years ago, when I was pregnant with our first child and I had a new sense of what it meant to prepare for a new life to join our household. With Penny on her way, we threw some things away. We put together a crib. We read books and attended classes. We thought carefully about what she needed in order to be comfortable and safe.
It's been ten years since Penny was born, but our family still tries to take to heart the idea of "preparing room" for Jesus at Christmas. Strangely, the Christmas season can feel like a time when there is no room. Too many parties. Too many opportunities for craft-making and cookie-baking and gingerbread house decorating. Too many communal gatherings with Santa present. Too many presents to purchase. Too much music. Too much wine. Too many church obligations. So little room for Jesus.
Our family participates in this Christmas extravaganza that seems to take over American culture in December. We shop. We donate toys at school and at church. We decorate and sing and we've been creating lists for Santa since September. But we also have made a few deliberate choices out of our own desire to prepare room for Jesus.
The first thing we do is we each find something to give away throughout the season of Advent. Every day, for 25 days, each member of our family of five chooses something—an article of clothing, a book, a toy—to donate to someone else. On a practical level, it's a good way to prepare for the onslaught of gifts for our kids, but I hope it helps us prepare our hearts for Christmas as well. It gives us a chance to give thanks for all that we have been given. It reminds us of those in need. And it reminds us of the source of all good gifts.
This year, our children decided that in addition to giving things away they would also give things up. They chose sweets and screen time, with no prompting from us. My husband came downstairs this morning surprised to find our nine-year old and seven-year old discussing the books they were reading rather than jockeying for their respective allotment of twenty minutes each on the iPad. "We gave up screen time for Advent, Dad," they explained. "We're getting ready for Christmas." I have to imagine that with their brains filled with words instead of images this month, they might have more room to welcome the Word who made his dwelling among us. I have to imagine that if they stick to a month without desserts, the cake at our birthday party for Jesus will taste all the more sweet.
The good news about Jesus is that he is willing to come and dwell among us whether or not we are prepared, whether or not we have made room. Even two thousand years ago, the innkeeper had no room for him. The world was not prepared for his message. And yet, grace upon grace, light in the darkness, angels singing glory to the shepherds, the ones who had ears to hear.
In "Joy to the World" the words exhort us to prepare room for Jesus. But the verse goes on to say: Let heaven and nature sing. Our preparations don't change Jesus' coming or his willingness to enter our lives. But our preparations might help us to participate in the joyful song of all creation, and with the stars and the angels, rejoice on Christmas morn.
---
Amy Julia Becker is the author of Small Talk: Learning from My Children about What Matters Most (Zondervan, 2014) and A Good and Perfect Gift: Faith, Expectations and a Little Girl Named Penny (Bethany, 2011). She lives in western Connecticut with her husband and three children.