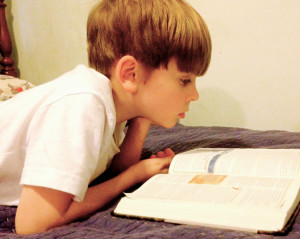 Recently I was with my grandson Jack. At bedtime he wanted me to cuddle up with him while he read his Bible to me. It was a special time of grandmother snuggling and listening. And of course it went on and on – he didn't want to go to sleep!
Reflecting on this moment my heart was filled with joy. God was answering my prayers.
For years the main thing I've prayed for my children and grandchildren is that they would fall in love with the word of God.
Why?
Shifting values, abundant options, and a confusion about truth marks today's culture. It's really no different from past cultures even though we may think we are unique. The subtle manner, the seeming "reasonableness" of some contemporary moral and social ideas can make us question our own convictions and lose confidence in the assurance that there is one truth. There is one thing that lasts forever, one thing that never returns void, one place that we will find security, hope, guidance, and perspective. It is the word of God – the scriptures. They are not merely wise sayings; they are sharper than a double edge sword, and full of the power of the Holy Spirit – a radical power with the ability for good change.
Our world sometimes causes us to feel like a rudderless sailing ship on a churning sea. We are at the mercy of the waves, tossed in many directions, unsure of the next wave. But if we have a rudder that is firmly held by God's hand we will be guided through the choppy waters or the still lakes.
God's word is like the rudder. How desperately we need it, our children need it and generations to come will need it. How thankful we are that God gave it to us. We don't have to discern truth or direction ourselves. We have a guidebook.
The psalmist reminds us, "Thy word is a lamp for my feet an, a light on my path." Psalm 119:105
Often we think about what we want our children to become and what legacy we want to leave them with when we are gone. Usually we think about financial security, a good education, success, or health. Not one of these is a sure thing. Ultimately a love for God and His word is the one sure thing that will sustain a child, an adult no matter what their future brings.
So I pray three things for myself, my kids, my grandkids and those to follow:
"Father help my kids and grandkids to be confident in your word, obedient to it, and proclaimers of it.
How does this come about?
Confident in it.
Our kids will develop a confidence in God's word as they see us spend time in it. This challenges me to spend time in the scriptures daily, to underline character traits of God, the ways in which he works. To look for promises in his word and to share them with my kids. No, we don't beat them over the head quoting verses to make them behave. Instead we share the delights of His word in our own life.
I remember when our son Chris was young and a young girl he liked broke his heart. I commiserated with his sadness –most of us know how that feels! And then I showed him Psalm 30:5- "Weeping lasts for the night but joy cometh in the morning." Chris I said, you are so sad right now but you will not always be this sad. Joy will return. You can count on this. "
As our children grow it helps to think Exposure. Expose them to young adults with a love for Christ and his scriptures. Invite them into your homes and ask them to share their faith story. On an upcoming vacation choose a story in scripture to study. Put on costumes and act it out. Make crafts depicting it. With older kids, assign a passage and then come together for discussion. Give your kids thoughtful books to read. Let them struggle with questions. But give them resources-people, books and retreats that will help answer their questions and build their confidence in His truth. In the middle and teen years they will be more open to hearing from someone other than Mom and Dad.
Having kids will push us to be growing in our own love of the scriptures.
Proverbs 14:26 says, ""Whoever fears the Lord has a secure fortress and for their children it will be a refuge." We their parents are not their main security- instead
It is our faith that provides their security.
Obedient to it
A desire on the part of a child to be obedient to God's word will be impacted by our decision to obey him no matter the cost. The most obvious place this happens in the family is with forgiveness. I can't tell you how many times I've had to go to my husband or to one of my kids and say, "I shouldn't have said— or done—. It was wrong and I need to ask you to forgive me. Will you forgive me?" I can't think of a single time I've felt like doing this. I go not out of feelings but out of obedience.
God has called us to ask for forgiveness when we wrong someone and to grant it when wronged. Often it takes time for healing to occur and trust to be restored. But it begins with the asking and granting of forgiveness.
Obedience to the word of God is observed in the little everyday things and sometimes in the big things. Several years ago my husband's church left our denomination because we felt we could no longer be under the authority of a denomination that did not uphold the truth of the scriptures. In the process we lost our buildings, our church bank accounts, our home. There were painful things said in the press many of which were untrue.
Our congregation of approximately 3000 found itself homeless. Yes it was hard, but the peace and the blessing that has come from being obedient to his word has far outweighed the pain. Five of our grandchildren are in our church and I hope that the courage of our leaders will be a lasting lesson of courage for them in the importance of standing firm in obedience to the scriptures- even when it's unpopular.
Proclaimers of it
Another of my favorite prayers is from Psalm 138:3. "When I called you answered me and you greatly emboldened me."
I have a notebook that is divided into daily sections. Each day I have a different theme that I am praying for my family. Today's prayer is, "Lord help me and John and our kids and grandkids to have the conviction, character, compassion, and courage to boldly proclaim you in a hostile culture. I ask that all our generations to come would be used to bring many people to you. "
Today believers are being marginalized on the altar of tolerance. We are made to feel that if we have a sense of certainty then we are intolerant and unloving. However the gospel is one of grace and truth. They are twins. Both are necessary.
And there are many, many people longing for this truth.
Once again exposure will encourage us to be bold. Our friends and their four children invited a Muslim woman and her child to share their home. Over the next several months through the love of this family both the mother and her son came to accept Jesus as the Messiah and to begin to study the scriptures. Our friends' children have had a real life experience of the power of the gospel and they will be more confident in proclaiming it to others.
Laurel and David have taught their children the way to use a simple booklet to share the love of Christ. Recently their son, Macrae, (age 13) went through the booklet with a friend and he invited Christ to come into his life. To these 2 boys it wasn't a big deal; it was something cool to share.
Pray as a family for friends and neighbors who might not know Jesus. Ask your children to think of 2 specific friends to pray for. Ask God to show you how to love these folks. Ask him to make you full of grace and truth and show you how to proclaim Him.
Recently I've been praying that I too will fall more and more in love with the word of God, that I would long for it, spend more time in it and share it with grace. (1 Peter 2:2)
Jack, my sweet grandson, may you always long for the word of God, becoming confident in it, obedient to it and a proclaimer of it.