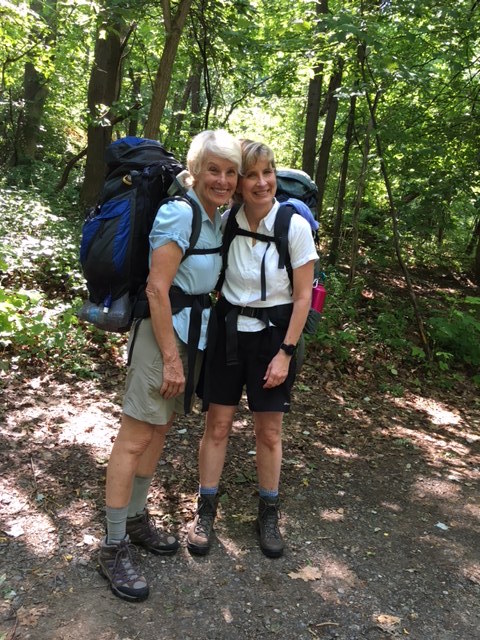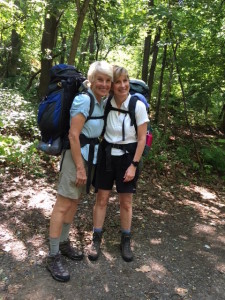 Recently my friend Melody and I took a 4-day, 3-night hike on the AT.
We were both exhausted in every way physically, mentally, emotionally, socially, and needed a genuine break.
In thinking about our hike I was captured by Psalm 62:1 "My soul finds rest in God alone; my salvation comes from him."
Soul rest. Just what I was after. This became my prayer for our adventure.
With hugs and prayers from our husbands we excitedly and boldly (OK, a little pride too) hit the rocky trail at Ashby Gap Virginia to head 40 miles to Harpers Ferry, West Virginia. Each of us carried a 40-pound backpack. A hundred yards into the trail I tired to jump from one rock to another and not being used to this much shifting weight on my back I did an amazing face plant on a rock. A very swollen cheek and black eye brought a bit of humility- yes, pride can go before a fall!
Several hours into the hike we hit the dreaded "Roller Coaster."
Steep up and down hiking for 13 & 1/2 miles over mostly rocky paths. We were later to hear from young "thru hikers" that this is one of the hardest stretches on the entire trail. We didn't know this then. Late that first afternoon, alone and thoroughly exhausted, in the middle of a steep stretch we were caught in a sudden thunder and lightening downpour and hail. Yes hail, larger than golf balls. Melody still has bumps on her head. Our gut reaction was to laugh hysterically and continue hiking since we were soaked already.
That first night we staggered into a camping area, got our tent up, hung our food up high so bears couldn't get it, and listened to 2 more inches of rain pound the roof of the tent. It didn't leak. (We'll gladly do an add for the manufacturer.)
For 4 days we carried our food on our backs along with our stove, tent, sleeping bags and pads, few clothes, and most importantly a water filter as we got our water from streams.
"I'm not having fun right now," was a phrase you'd hear every now and then, particularly when we were reduced to all fours on steep inclines. One morning we met 3 snake hunters who by noon had already seen 9 copperheads and 3 rattlesnakes. That was not funny. We stayed away from big boulders per their advice and didn't have any snake sightings.
Our last night we arrived at a shelter to discover a couple from a nearby town had hiked up carrying a cooler with beverages. They cooked hamburgers and hot dogs as a gift to hikers. We thought we might be hallucinating. Their kindness was such an example and we dubbed them "trail angels."
We loved the hikers we met along the way. These folks are unusually kind, thoughtful, quiet, and generous with advice and food. Everyone cleans up. You don't see trash. No one cares who you are, what you do, or what you look like. We all stink. Really. And we all look a mess. (I didn't even take a brush on the hike). There's no pretense. We are all equal. And it's freeing. We are just about the hike, the views, and the experience. The real world is shut out.
In shelters along the way you find trail journals. Hikers assign themselves a trail name so they can keep up with each other. Names like "Bash" or "Hardcore" or "Little Bear." One name is easier to remember than three Marys or Bobs you meet along the way.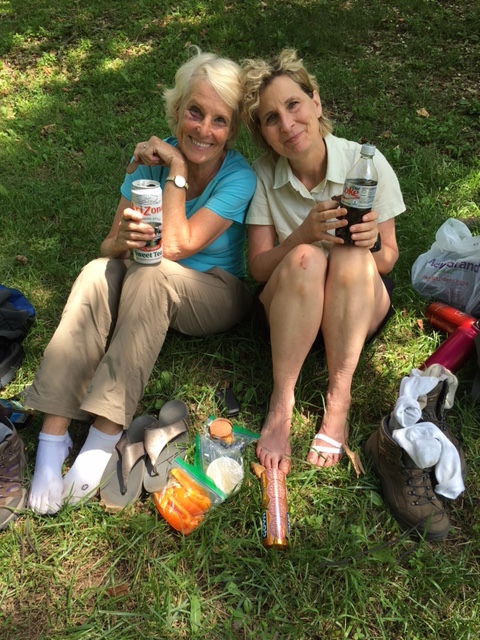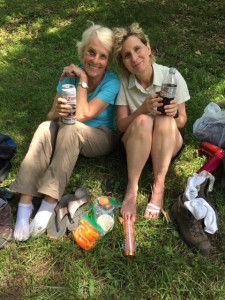 I must say that this is the hardest thing I've ever done physically in my entire life but one of the most refreshing things emotionally. There is something so pure, so focused about being in God's nature. You are working so hard that you have to leave your to-do-list, your plans, and your worries behind. Such freedom. Genuine emotional rest.
Now on some nights I long for our little tent, the absolute silence of the woods, the freedom to simply focus on the next step. Even the pouring rain.
Yes I found Soul Rest.
Another hike is definitely in the plans. We've caught the bug. But we have realized that Melody and Susan aren't cool trail names. So we decided to name each other. Melody dubbed me "Trailblazer" and I call her "Deep Roots."
You just might find us in a trial log!