"The whole earth is filled with awe at your wonders; where morning dawns, where evening fades, you call forth songs of joy." (Psalm 65:8)
AWE at your wonders!
This was the refrain that ran in my head as I anticipated my 7th big hike with my friend Melody.
We choose the Suiattle River Trail (named for a Native American tribe) for our 4-day, 3-night backpacking trip. This woodsy river trail is in the Glacier Peak Wilderness of the northern Cascade mountains in Washington state and intersects with the Pacific Crest Trail as it meanders from Mexico to Canada.
Supported by a team of friends and family who were praying for us, we climbed 9 miles our first afternoon to make a base camp in Canyon Creek beside the Suiattle River. Four hours later were thrilled to drop heavy backpacks (especially Melody, who carried the most weight) and settle in for the next 3 nights. From base camp we would take day hikes.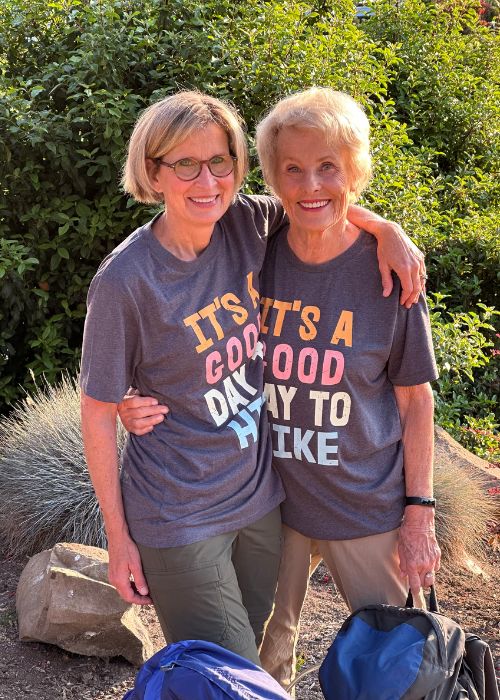 Why do you do this?
(A question we are often asked!)
We love the outdoors!

A companionship of silence. (We hike for hours without speaking…really!)

The quiet of nature which speaks loudly!

Sleeping in a tent. OK we are a little crazy, but we do love it!

Simplicity — an uncluttered lifestyle — filtering our water from a stream, a tiny stove, basic freeze-dried camp pasta in a package, no makeup or hairbrushes.

The hiking community. No one cares what your resume is, what you look like or smell like, (which is pretty rank); everyone looks after each other.

Being completely "off grid." (There is no cell service)

Achieving our record day in seven years of hiking! 16.33 miles. 8 of these were rigorous climbs uphill up on switchbacks and I thought I was going to die. (That night we were asleep in our tent by 6:30 pm!)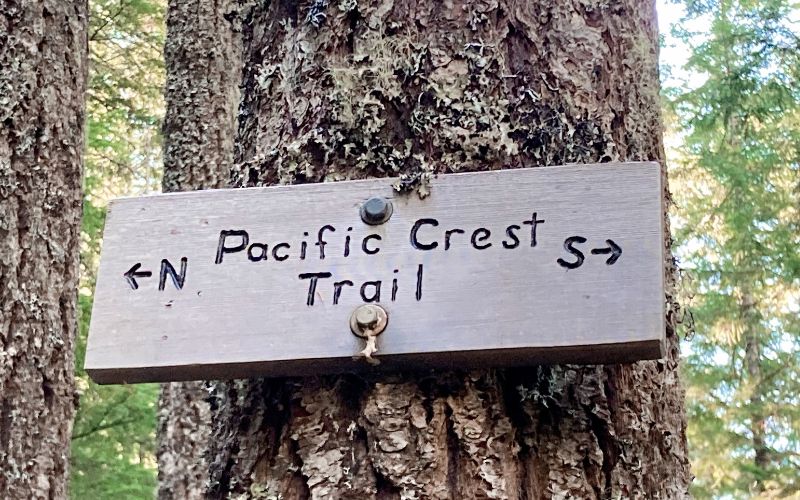 What awed you this year?
Once again, we were awed by how God's creation becomes our teacher, when we take time to really look at our surroundings.
Here are 4 metaphors we noticed which enlarged our view of God:
1. Walking along one path of the trail we stopped suddenly as it looked like a bear was just ahead in our path. Shocked, we waited to see if "he" would move. After a few moments we crept forward. As we got closer, we discovered that it wasn't a bear after all but a root-moss sculpture that seemed from our perspective to be a bear!
In our "bear" we were reminded that often things which seem to be clear (scary) ahead aren't always what is true when you get closer. We have to be careful in life not to assume the worst and to realize that things may look completely different from a different perspective.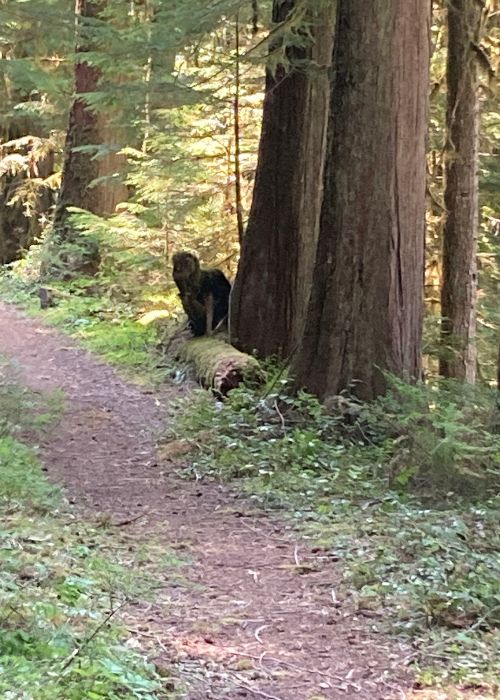 2. Along the trail we saw many blowdowns (trees uprooted by violent storms, avalanche slides, etc.). One giant tree, when uprooted, revealed a mass of rocks under the roots at its base. We marveled at how this huge tree had grown to such heights to thrive amidst great challenges.
This tree reminded us of a friend of ours who, despite a very sad and difficult upbringing, worked hard and long to overcome huge obstacles and began to thrive. No obstacle need paralyze someone. To an outsider her rocks –challenges — had been hidden. But they had not been hidden from God. He made a way through them.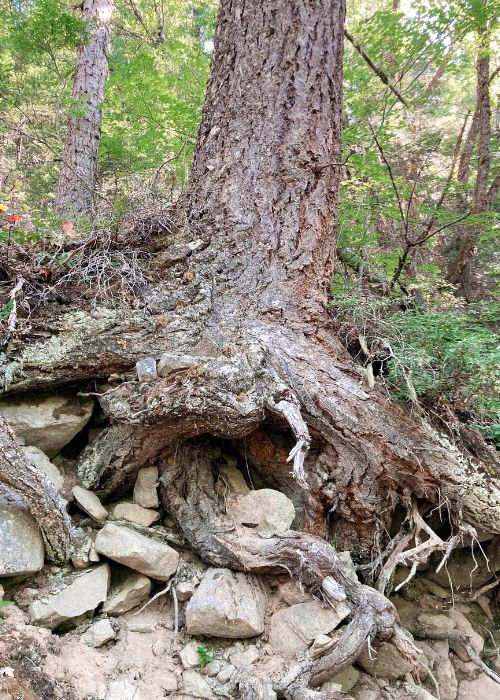 3. I love things green, and on this hike, we were surrounded by green. Evergreen trees, dangling ferns, and lots of different mosses. Most often when I walk in the woods, I simply notice moss and say, "that's pretty." Rarely do I take time to notice how many different types God has made! (There are approximately 12,000 species throughout the world). This time I tried hard to notice the different varieties and even to name some (curly moss, soothing moss, spongy moss, "curl up in me" moss…) It's fun to imagine God saying,
"Susan, look at that one too. I created it differently so you would enjoy it as well!"
God loves it when we delight in His creation but too often, I overlook it and miss out. I am reminded that He is far more creative than I know, and He is creative in how He will work in my life and in the lives of my loved ones. He is working in my life even if I can't see it right now.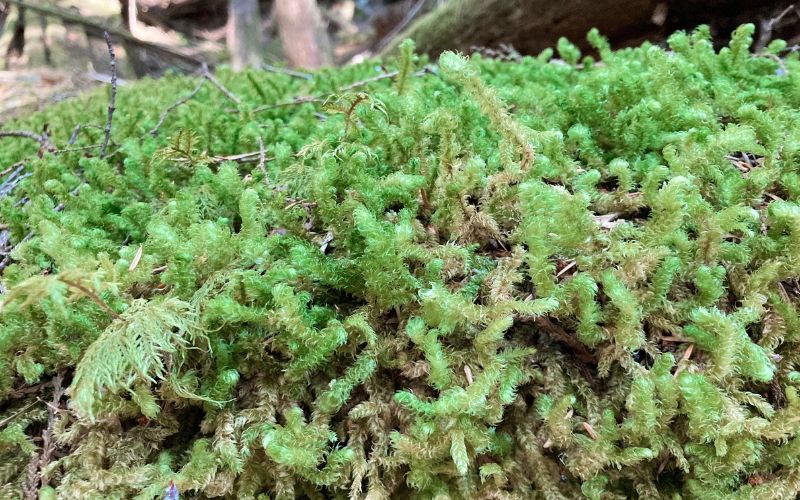 4. In a section of the trail that had been damaged by fire we came upon a beautiful log. It stood out from burned down trees and stumps. Its wood a vibrant red, the bark long gone. I imagined how it once looked with peeling, blackened bark. Yet now with the scaly burned peels gone, its beauty shown. It had weathered much and was beautiful! (My son would love to carve something out of this log!) Observing its splendor, I was reminded that often "out of ashes will come beauty." (Isaiah 61:3). The "weathering away" may take time but underneath is beauty that awaits!
As I head home to the East coast my heart is filled with gratitude. Thanksgiving for our adventure in the Northwest. For perfect weather, safety and protection. (I kept hearing my husband's voice, "Don't be stupid Susan. Do not jump over that log!") For a brand new knee that worked, pain-free. Even for the blisters on my toes because they will heal!
For the joy of His wonders.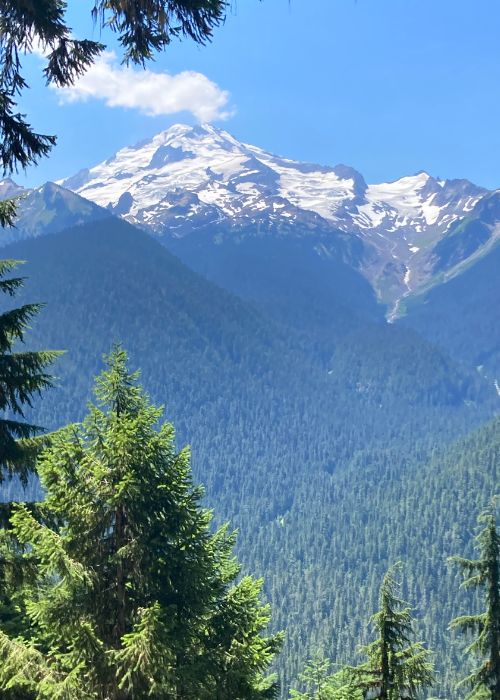 Our last night I woke in the middle of the night and stepped outside our tent. The sky was filled with stars, the night completely black, a soft breeze caressing my skin. And we were all alone. No other campers in site anywhere. It was a quiet, holy moment. I did not want it to end.
Crawling back into our tent these 2 songs came to mind.
"Surely the presence of the Lord is in this place…"
"Holy holy holy, Lord God almighty, Heaven and earth are filled with your glory…"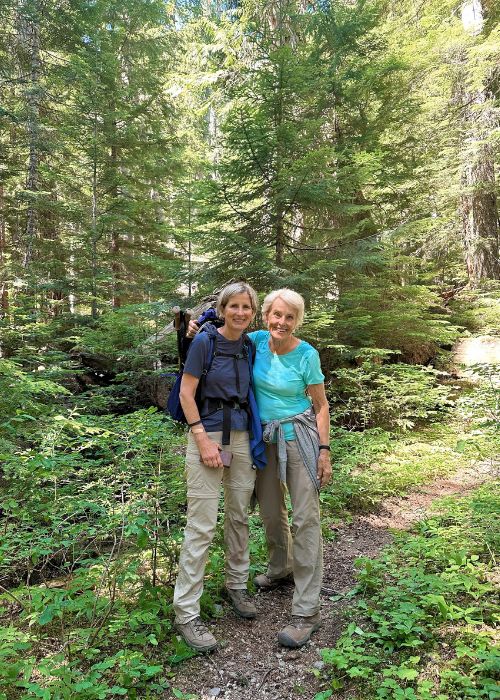 You can read about our other hikes here: