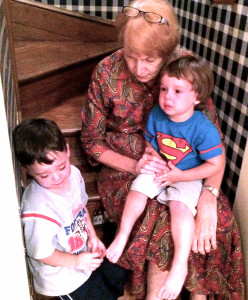 At the heart at raising kids with character is the trait of compassion. What is it exactly? How can we help our children and grandchildren develop it? Here are some thoughts from my husband John.
Compassion is having pity, feeling sympathy for another, and doing something about it. It's the opposite of envy at another's good fortune. The Greeks had a word for it that is worth noting – splanchnizomai, which means to be deeply moved in one's inner being by the suffering of others, to have one's heart significantly touched at the site of crying human need.
A sociologist for Princeton surveyed two thousand volunteers recently as to why they volunteered. He divided the sample in half and ask them questions in two different ways. The first group was asked if "wanting to give of themselves" was an important reason people volunteered. Fifty percent said yes. But the other group was asked if "sacrificing some of themselves" was important. Only fifteen percent said yes.
What people are saying is that they don't really want to be made uncomfortable or at least not for very long. We want to be caring and helpful to others when it is convenient. It is very difficult, for example, to get a church member to take on long-term responsibilities. People will give a day or a brief time commitment to something but resist the request to make ongoing time sacrifices. We are too busy – or at least, this is what we say.
It is certainly possible to become so totally over committed to helping needy people as to have no life of our own, nor time to rest and be refreshed personally. Those experienced in the "helping" professions warn us of this danger. But most members of our generation are not inclined toward this error.
We know and believe that sacrifice, compassion, self-denial and charity – qualities that blur and blend into one another – are essential to the Judeo – Christian faith. Yet, we are often not as thoughtful and genuinely concerned toward others as we would like to think we are. The spirit of the age clearly is urging us to take care of ourselves.
There are four concepts that have been helpful to many people in breaking through these hardened outer layers surrounding and isolating the heart. They are simple attitudes that, as we begin to adopt them, can genuinely help us to regain and recover the sort of tenderness at the core that God so clearly expects of us, and which we ourselves want as well.
1. Understand God's Compassion
The first strategy for recovering a tender heart is to remember what God is like. A major reason compassion is becoming rarer in our day is that we forget that we, too, have been the recipients of great mercy. God has had compassion on us. Any person who seriously contemplates the holiness of God, the demands of His moral law as described in the Bible, realizes that none of us live up to God's standards. And yet God has had mercy on us, He has taken pity on us, and forgiven us our sins. He's even gone further than that; He has given us the gift of eternal life with Him in heaven. That's what we call grace. Mercy says, I pity you; grace says, I pardon you. Mercy looks down upon the negative action, while grace moves into the realm of taking positive action. Together these qualities comprise what we term a compassionate heart.
2. It Could be Me
A girl gets pregnant in high school and drops out to have the baby. With no family support, she is unable to finish her education, and she lives in poverty. That could have been me.
A couple longs for a child, and after years of trying they finally conceive only to give birth to a baby with disabilities. That could have been my baby.
A soldier loses a limb in the war and still suffers emotional and social trauma. That could have been me.
There is no reason whatsoever to be smug about one's own accomplishments. God has given us the brain we have, and He enables us to have the opportunities that make it possible to enjoy whatever privileges and abilities we possess.
Instead, whenever we encourage a person who has needs, it does us a world of good to recall those words, There but for the Grace of God go I! Sometimes this simple thought is all that is needed to release within us a flow of compassionate concern. You cannot solve everyone's problems and shouldn't try but seeing people through this particular lens helps us to care. And sometimes there is a way we can help.
3. Righteous Indignation
A third concept that helps us to become more caring of others is the simple idea of righteous indignation. "It's not right that this should be happening. We've got to do something."
How many privileges do we enjoy because somebody got good and mad somewhere along the line and did something about it? A fair day's wages, the right to disagree with my employer, equal access, equal opportunity, racial equality, and freedom to worship are but a few examples. Sometimes the simple unfairness of a situation galvanizes us to action – or it should.
4. It Could be Christ
Finally, the realization that Christ himself may be present challenges us to look again and to look with more compassion on others.
One of the most mysterious statements Jesus ever made was his comment "Whoever welcomes one of these little children in my name welcomes me." (Mark 9:37 NIV) He spoke similarly on various occasions, implying that sometimes He will be in our midst and we will not recognize him.
In the same way, there are instances in Scripture of God's angels coming among us as people in need and not being recognized. "Some people have entertained angels without knowing it. Remember those in prison as if you were their fellow prisoners and those who are mistreated as if you yourselves were suffering." (Heb. 13: 2-3, NIV)
Any person could be an emissary of God without our knowing it. Jesus himself could be standing before us in the form of some ordinary person. The sheer magnitude of such a possibility causes us to see others in a different light.
The example we set for our children will help them, perhaps more than anything else, to grow into compassionate men and women. This begins, of course, with the spirit of compassion right in the home. I can remember being carried by my mother on visits over and over again as a little boy – various errands of mercy among the poor and the sick of our small Southern community. She always seemed to be thinking about them and the needs and concerns they might have. Sometimes it was simply visiting or taking a loaf of bread or pound cake to someone. It may have been sitting with the hair dresser whose husband was dying of cancer. Always it was a time to encourage them and to pray for them.
None of us can solve all the world's problems. There are needy situations we'll encounter that we can do little or nothing about. But a compassionate person will do what he can. Our reward isn't necessarily getting strokes here on earth for all the thoughtful good we have done. Sometimes exactly the opposition will happen and well regret, perhaps, even getting involved. But we take the risk anyway because we know it's what God would have us do.
This is at the very heart and core of what it means to be a person of strong moral character.