by Barbara Rainey
Have you ever wondered about how to celebrate Lent with children? Have you thought maybe it's too difficult for them, or just not known how to approach it?
I want to encourage you to celebrate Lent at home this year, to make this season leading up to Easter a special time of family worship. Our kids are so used to the lead-up to Christmas, and eagerly count down the days. But Easter is actually the more significant spiritual holiday, and deserves a season of its own.
If you attend a non-denominational church, you may not know what Lent is, or may think it's just something for other folks. But Lent is the time of getting ourselves ready for the most stupendous event of all time: Jesus and His resurrection!
It starts on Ash Wednesday (this year, March 6) and runs for six-plus weeks through Easter. It's a way to help your family experience afresh the wonders of God's miraculous redemption plan and to teach your children important Old Testament prophesies about Jesus.
Lent is Easter's Advent season, another opportunity on the church calendar for discipleship at home.
Believe me, I know how busy you are, and I don't want to burden you with a long list of things to do. But there are simple, practical ways you can celebrate Lent with your children.
Weekly Lessons
One simple way to celebrate Lent with children is to read a Bible story each week. I have a series of six lessons for you, one for each week of Lent, with a Bible story, questions, and a prayer for each one. There's nothing for you to prepare, they're all ready for you!
My goal in these lessons is to help you bring the reality of the eternal into your home this Lenten season. They walk through the clues God gave us over hundreds of years about what would happen that very first Easter.
You'll find the lessons right here:
Count-down Banner & Calendar
This year, to help all of us anticipate and learn more about the wonder and miracles of Easter, we've created a new Easter Banner to count down the days. Accompanying the banner is a 40 day standup calendar with a very easy quick-to-read story once a week and a verse plus a couple questions for each of the following days. Together, these are an easy, re-usable way to make this season memorable year after year.
Reading these short daily lessons with your children is a perfect way to disciple your children in the history and truths of our faith.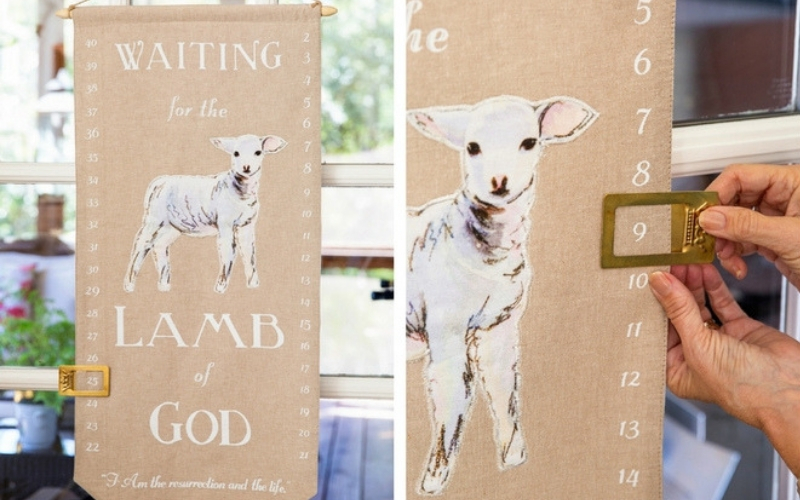 Feasting
The 40 days from Ash Wednesday to Easter gives us plenty of time to prepare a simple or elaborate feast and celebration for Resurrection Day. It is the most important holiday of the year; therefore it is most worthy of our efforts and attention to create a glorious celebration.
Start thinking ahead now.
You start planning Christmas more than a month out, why not Easter? One way to celebrate is of course to plan a feast for your family or a combined meal with several families to set this Sunday apart from all others. The goal is not to make more work for us busy moms, but to take some time in the month of March to make the resurrection a most memorable day in your family life so your children begin to rightly value its importance in their lives.
Then work your way backward, giving some thought to Palm Sunday and Holy Week, and back to Ash Wednesday and the season of Lent.
I hope you'll celebrate Lent with your children this year — may it be a time of joy and reflection for all of us!
Check out the Easter Banner and more at Barbara's website, Ever Thine Home.
For more, check out Susan's blog, A Different Take on Easter.
Save this post on Pinterest: