A few years ago I realized that often when I woke up and began to think about my day I became "down" or "discouraged." There was no prevailing reason why, simply a feeling of dread followed by guilt for feeling this way.
Mothers of young children don't have the luxury of thinking before they get out of bed. More likely there's some little foot kicking them or a big voice screaming for them. But some of us don't have kids. Others have reached the season when we do have a few minutes to awaken and the time to contemplate. It can be a moment of rejoicing or a moment of feeling blue. It depends upon our focus. Lying in bed that morning I realized I needed to adjust my attitude, to shift from thinking about how I felt about my day to focusing on God.
Paul tells us in Romans 12:2,"Do not be conformed to this world but be transformed by the renewal of your mind that by testing you may discern what is the will of God what is good and acceptable and perfect."
It was a different kind of wake-up call for me.
In the gospel of John there is a scene in which Jesus is talking with His disciples as He tries to prepare them for His death. He says, "But the Helper, the Holy Spirit, whom the Father will send in my name, he will teach you all things and bring to your remembrance all that I have said to you" (John 14:26).
To stop my habit of thinking negatively as I woke up I began to ask the Holy Spirit to remind me of one character trait of God the Father or of His Son that I could meditate on that day.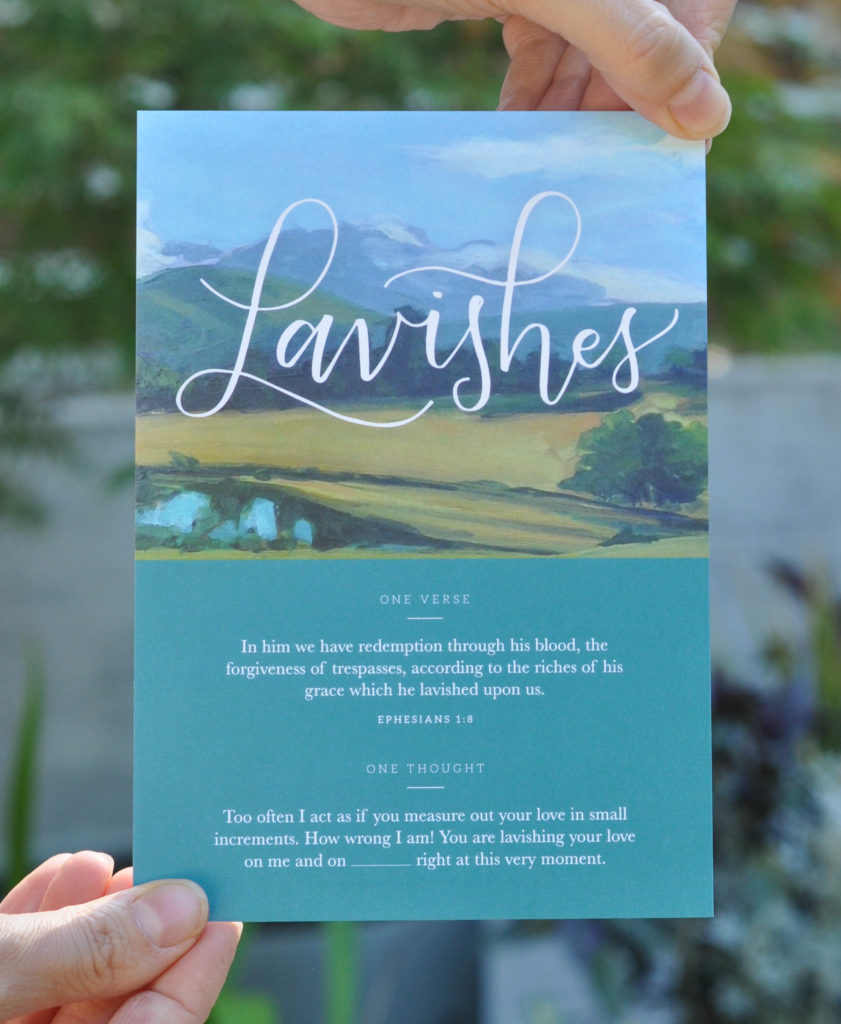 I remember the first day I did this, the trait that came to mind was He is a God who rescues (Psalm 18:19, Psalm 91: 14-16). Hopping out of bed with more joy than usual I went to get a cup of tea when my phone rang. A friend on the line burst into tears, "Susan," she exclaimed, "I'm having so much trouble with my teenage son. I feel like he needs to be rescued." Can you imagine the joy that flooded my heart? It was as if the Holy Spirit placed an exclamation point over His leading.
On another day the character trait was He is a God who lavishes (Ephesians 1:8). As I thought about God lavishing His love on me I realized how radical that was. Too often I act as if He parcels out his love, trickle by trickle, drip by drip, definitely sparingly, without waste. Oh no! He lavishes. Contemplating this fact changed my entire day!
For many years I have continued this habit. Sometimes I forget and then slowly the morning blues return. I realize I need to resume my habit.
Psalm 90:14 states, "Satisfy us in the morning with your steadfast love that we may rejoice and be glad all our days."
This small practice has changed my attitude and enabled me to focus more on Him throughout each day.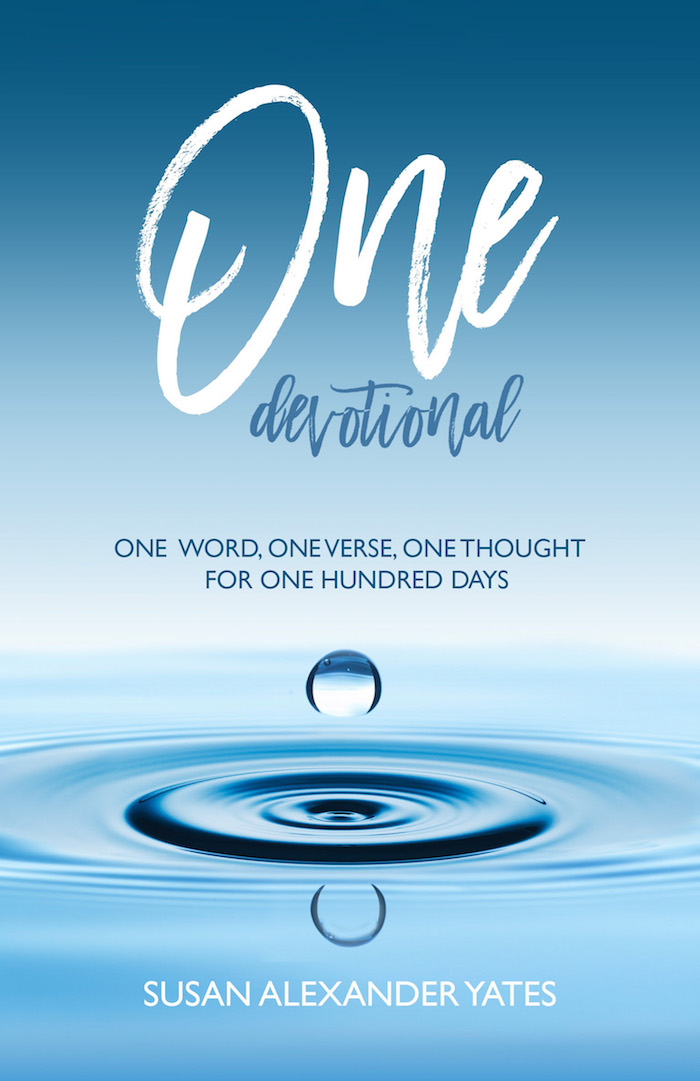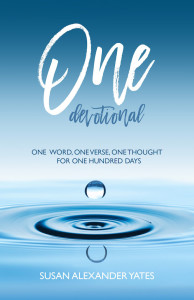 It was out of this habit that I wrote the book, The One Devotional- One Verse, One Trait, and One Thought for 100 days.
This little devotional is to encourage you to begin a daily habit of focusing on one character trait of our amazing God. It is so easy for our lives to become about me and my stuff. When this happens we lose perspective and our joy begins to evaporate. God delights in revealing himself to us.
If we will begin to walk through each day focusing on Him and His character we will gain a healthier perspective on our stuff.
After the book was published my artist daughter-in-law Christy, my graphic artist friend Jess, and I developed the One Word cards and stationery. Each one is an original depiction with one word, one verse and one thought. These are used in a variety of ways to help us focus on one character trait of God.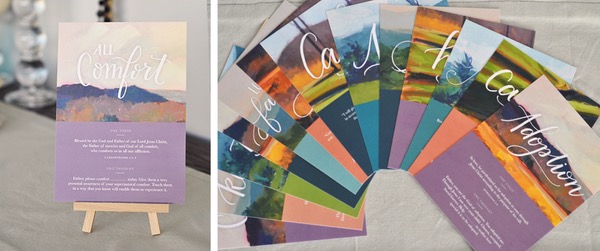 We found that having a visual reminder of God has helped us to focus more on who He is each day rather than on who we are or are not or on our issues.
We want to encourage you to begin a practice of focusing on one character trait of God each day.
Our prayer is that as we focus more on who He is than on how we feel we will be transformed!