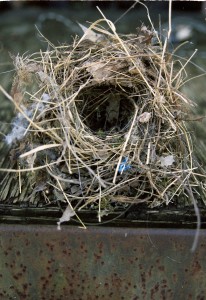 For many of us the ending of summer and beginning of fall is hard. Perhaps you've just sent your first or your last child off to college or to work. You are still shedding tears. Or you may be well into the empty nest but you are sad because the ending of summer marks a return to responsibilities and saying goodbye to family reunions.
My friend Karen remembers the fall when she hit a slump. She thought she was prepared because she'd already sent three kids off and she'd been thinking about the empty nest as her last child Holly, prepared to go. But leaving Holly was harder than she thought it would be. They were so close and this was it—a truly empty nest.
After moping around for several weeks Karen decided it was time to get honest with some of her friends about what she was experiencing. And so she called up some old buddies—"The Stones," they had affectionately dubbed themselves. These were women with whom she'd been friends since they started having babies. Together they had walked through potty training, teen challenges, graduations, and weddings, sharing both joys and heartaches. Now most were into the empty nest season too. Karen said, "You need to help me thorough this. Don't let me withdraw. Call me and ask me how I'm doing. Make sure I'm at Bible study and that I'm getting exercise. Help me stay involved. Pray for me to catch a fresh vision for my life."
The "Stones" stepped in. They understood. They offered comfort and encouragement. But it didn't end there. Together they began to dream about what God would have each of them do in this new season. They pointed out the gifts they noticed in one another. They pointed out ways they had seen God use each other in the past. And they challenged each other to take a risk and to begin to step out in new areas which often called for a scary leap of faith. These women knew that their years ahead could be significant in making a difference for God's kingdom.
It excites me when I hear about the "Stones." All of us need friends who will challenge us in a similar way. Why not invite several women over for coffee—women with whom you can share your sadness. But then be sure to focus on the great fullness that lies ahead as you begin to discover God's next plan for each one of you. He does have a special purpose for each one of us in this new season.
This morning I was reminded of Psalm 103:5:
"He satisfies your desires with good things so that your youth is renewed like the eagle!"



Family Life is now offering my and Barbara Rainey's book
The Empty Nest for only $5! Check it out here!