It's mid-summer and time for a few good reads!
Here are some books that I have recently enjoyed. I read in a mix of categories as you'll see here. If you're looking for something to inspire, entertain, or encourage you this summer, I hope you'll find one in this list!
(And comment below if you have one you'd recommend. I'd love to hear.)
OK my favorite fun book of the year:
This is a true story of a 63-year-old woman, Annie, who in 1954 rode her horse from Maine to the Pacific Ocean with her dog often hopping on the horse's back too! It's such a happy, inspiring story! And we need happy today.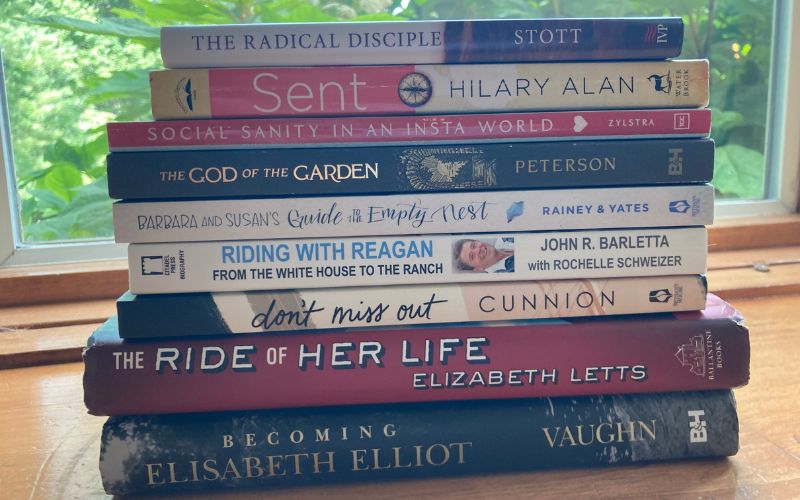 And some other good ones:
This authorized biography by my friend Ellen is excellent. Well researched (with access to personal diaries) and deeply moving, this book gives a realistic picture into the struggles and victories of an amazing woman of faith.
I love this book! Comforting, refreshing, and encouraging. It opens my eyes to nature in new ways. It's sort of a "Wendell Berry meets songwriter Andrew Peterson."
Horse fans will love this. An insider's look into the "ranch life" of President Reagan. Told by his Secret Service riding partner, it is full of funny stories about the former President.
An excellent book for everyone. It's an easy read, theologically sound and practical. Personally, it has made me long to be more sensitive to the Holy Spirit's power to be more at work in my own life.
A true story of a family of 4 (including 2 teens) who gave up everything to follow God's call to serve for several years in Southeast Asia in the aftermath of a tsunami. These folks are friends of ours and their story will bless you.
Please forgive the self-promotion. 🙂 Barbara and I wrote this several years ago when we were beginning the empty nest years ourselves and could not find help to navigate this season!
As August arrives many of you are experiencing this as well. My friend Christi has used this book for about 10 years in her city as an outreach to other mothers, many non-believers. She's had an amazing response. If you are interested in how Christi did this get in touch with me and I'll connect you with her.
A brand-new book with excellent thoughts on the challenges of today's social media. Short chapters written by well-known authors and speakers, it will inform and encourage you. Questions at the end of each chapter make it ideal for a book club
This little book is John Stott's last before he went to heaven. It's excellent. Brief chapters include: "Nonconformity," "Simplicity," "Dependence," and others. I especially liked this quote,
We are all designed to be a burden to others. You are designed to be a burden to me, and I am designed to be a burden to you. And the life of the family including the life of the local church family should be one of mutual burdensomeness. Carry each other's burdens, and in this way you will fulfill the law of Christ." (Galatians 6:2)
And if you haven't watched the new series "All Creatures Great and Small" (PBS) it's wonderful.
Happy reading!
Save this post on Pinterest: