We had a rough, bumpy takeoff in the rain. Linden's hand tightly held mine and her eyes squeezed shut for a moment as we raced down the runway. Fear and excitement intermingled. But she felt safe beside me.
"We'll get up above the clouds and you'll see blue skies and sun," I told her.

"You're kidding, right?"
I was taking my nine-year-old granddaughter, Linden, who lives in Virginia, to visit her cousin Grey in Tennessee. Both of these girls are 4th graders. Because they live in different states they don't get to spend much time with each other. One of my priorities as a grandmother is to think of ways to enable my grandchildren to get to know and love one another.
I was especially excited about these two having time together. Both of these girls are strong leaders, enthusiastic, outgoing (okay, a little bossy, but it's in the genes!), love horses and sports and often get very tired of brothers.
I couldn't wait for this special weekend. I wanted to see these two sweet girls begin to bond.
But I was about to see something else.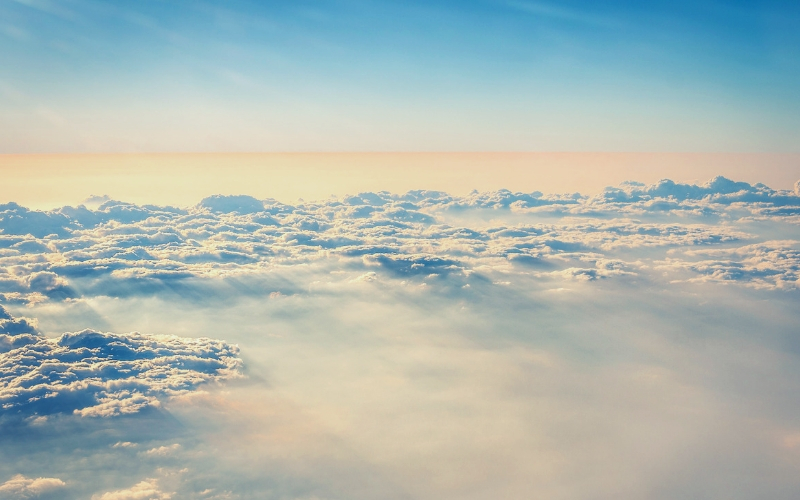 Ordinary or incredible?
I had not realized that Linden had only been on an airplane once, as an infant. She didn't know anything about flying and she was both excited and a little fearful.
"Ghee," she asked me, "do they have food on airplanes? What if I have to go to the bathroom? Will I be able to see out?"
Stepping onto the plane felt like entering a whole new world. Her eyes lit up as we walked down the aisle to our seats. She couldn't wait to open her shade and look out her window. Other passengers quickly pulled theirs down to block out the sun and settle in for a nap. It was simply old hat for them.
Not Linden.
The seat belt was familiar — but not much else. What was the thing in the back of the seat? A tray that came down! Where was the air coming from? Above. How did it work, and where was there a light?
Soon enough we burst through from the dark bumpy ride into a beautiful calm sea of blue. It was magnificent. She was mesmerized and I was enchanted.
I was beginning to realize that what seemed ordinary for me was indeed incredible to her eyes. It was magical. It was fresh. I felt privileged to tap into her sense of awe and wonder.
A prayer for the new year
Seeing this trip through Linden's eyes caused me to ponder:
How often to I fail to see things because my environment is so familiar?
Do I take time to look–really look–at God's creation and marvel at His wonders or do I pull a shade down over my eyes and my mind, taking things for granted?
Do I assume another person has had the same experiences I have, or do I encourage them in their joy of discovery?
Do I look and listen for the new in everyday moments?
Two hours later we had a hand-squeezing, eyes-shutting bump onto the tarmac. My phone was nearly dead from the 100 photos Linden had taken out the window. It had been a great beginning to a very special weekend.
But for me it had been even more. Through my granddaughter I had realized a staleness in my head and heart. I wasn't seeing life as I wanted to. I was simply rushing through it.
It had become too easy to live in the "same old, same old," to lose my enthusiasm for the small things. I don't want to do that. I want to see in new ways the amazing things God is doing.
He is always working.
So as a new year begins, I am praying that I will see in fresh ways the things God has done and is doing. And when things get bumpy, I'll remember to grab his hand.
"He put a new song in my mouth, a hymn of praise to our God. Many will see and fear the Lord and put their trust in him." (Psalm 40:3)
Save this post on Pinterest: