Are you a reader? I love a good book, especially in the summer when maybe you'll have a little extra time. I read a bit of everything — fiction, nonfiction, theology, history, historical fiction, devotionals.
Here are 9 of my favorite recent reads, along with a few friends and favorite authors, that will help you find what you want to read next. (Plus one online course!)
I hope this helps you find just the right book for this summer!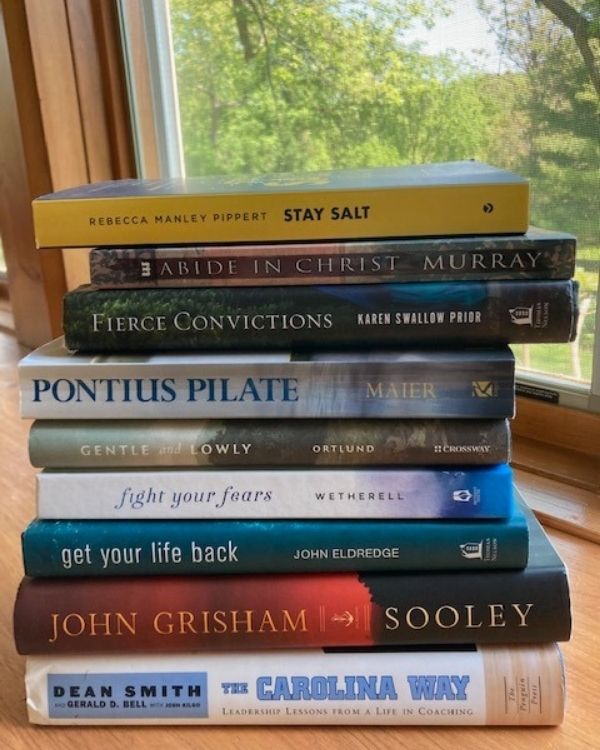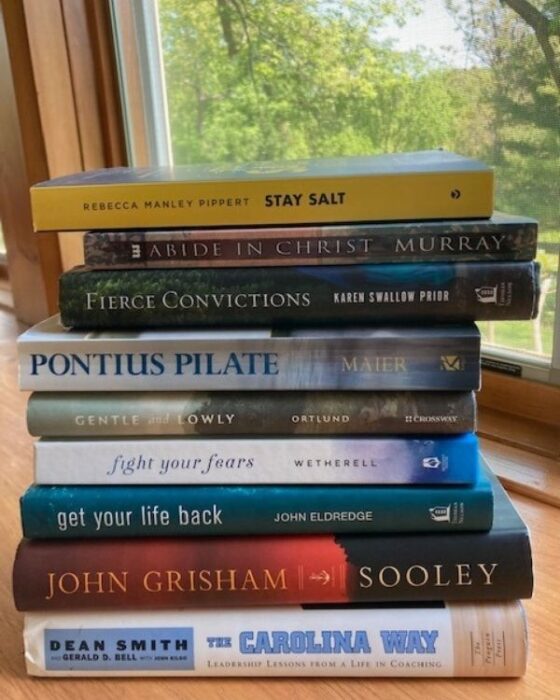 Disclosure: This post contains affiliate links.
Click the titles to purchase the book on Amazon.
9 Books I Love
Tim Keller says, "This may be the best book on evangelism for the next generation." I too loved it, and it would be a good book for a small group summer study. It begs discussion!
An easy read that will comfort your heart if you tend to worry or fear. She has a way of saying out loud what you may be feeling. Very honest, simple layout, great scriptures. It spoke to me!
Legendary basketball coach, Smith has written my favorite book on leadership! (OK, I am a rabid Tarheel). Co-written with business consultant and college prof Gerald Bell, this book should be required reading for any coach, CEO, or senior pastor. It's full of wisdom for building a team and caring for them!
I first read this book when I was an overwhelmed mother of 5 kids ages 7 and under. I felt like a constant failure, not accomplishing anything and not doing anything right. This book pulled me back on track to seeing that God loves me just because I belong to Him, not because of my performance. It's worth a read every few years so I'm reading it again!
This is not merely a book to read but a book to experience. It will delight and satisfy you and encourage you to 'ruthlessly give up hurrying.' I read it during COVID but am still contemplating its lessons. It is helping me reframe my life.
Historical fiction that takes you to the week of Jesus's death. It's so good I re-read it almost every year!
Wonderful description of the heart of Christ. Full of grace and mercy it leaves me wanting to experience more of Him.
A novel about a basketball player from South Sudan. It's a page-turner rich in character development and drama. Sports fans will love it, and we'll all be touched as this "could" be true.
History buffs will like this one about nineteenth century hero Hannah Moore, a courageous friend of William Wilberforce. Even though it's a little dry at times, it's a story that needs to be told and will inspire women of every age to become a bold difference-makers.
Family Memories
Of course, if you're planning a family get-together for young cousins, the whole crew, or even golden oldies, you'll find tons of ideas (Bible studies, games, schedules and more!) in my book Cousin Camp. I hope it's a blessing to you!
Do you have trouble falling asleep? Need a stress reliever?
These are some of my favorite bedtime authors — captivating, relaxing, and happy: Jan Karon, Louis L'Amour, James Herriot, Wendell Berry, Peter Mayle.
And 4 friends with great books:
And my friend Lori Smith just created a new online course called Comfort for Dark Days, which includes video teaching, art, and worship music. If you're in a dark place and wondering what God is doing and how to get through it, this is for you.
If you've read these I'd love to know what you thought. Have other favorites to add to the list? Comment below.
Happy reading!