This was a front-page headline in USA TODAY on June 7, 2018. It chronicles the story of 15-year-old singer and dancer, Jojo, who has more than 6 million subscribers on her YouTube channel and 7 million followers on Instagram.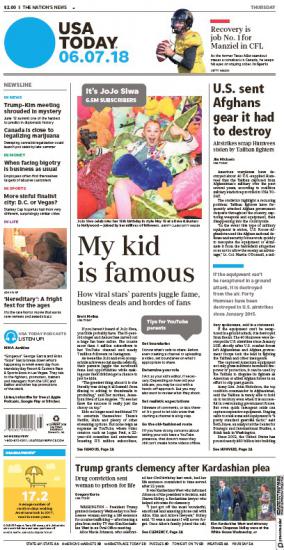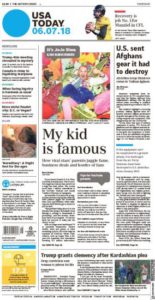 Within a day, another story broke—this one about the shocking suicide of Kate Spade, famous designer. She reached the pinnacle in the world of fashion and yet… The same week, international celebrity chef and TV personality star, Anthony Bourdain, hung himself.
It seems like nearly every time we check the news some famous person has died tragically, committed a crime, suffered deep depression, or simply faded off the front page.
From Wall Street to athletic fields, to Hollywood, to the heights of politics, we are vulnerable to the loneliness and disappointments of fame.
Now, there's nothing inherently wrong about succeeding. It's admirable.
However, by itself, fame is empty. Its detachment encourages superficial relationships. Fame is increasingly generated and maintained by isolating systems of media promotion such as Instagram, Twitter, and YouTube. They are closed systems, cut off from the physical presence of people who can respond and reflect, and as a result, success becomes even less satisfying. "It is not good for man to be alone" is a basic Biblical premise. The fame factor combined with the need for self-promotion via the internet can become a great sinkhole of isolation.
As I ponder this drive for fame, questions arise:
Is my highest aim for my child that she or he become "famous?"
Is success in my business my ultimate goal?
Is significance what gives value to my life?
Fame is empty. It can be isolating and lonely. It is not often satisfied; instead, it cries out for more. We who live in the Washington, D.C. area experienced this recently. Our Caps won the Stanley Cup! And we have really celebrated. Yet almost immediately after this great victory, the talk began, "Can they repeat it again next year?"
There's so much pressure for an encore. Ultimately we, and our children, have been designed for so much more than fleeting fame.
We were created to know that we loved by our heavenly Father who loves us not because of our accomplishments but simply because we belong to Him. Nothing we achieve will make Him love us more.
Our worth, our value, is in him. Period.
I wonder: Are we unintentionally pressuring our children to be the best in the things that really matter or in things the world values, which may ultimately falter? The pressure to succeed creeps in everywhere.
What if: Instead of "Proud parent of an honor student at…" the sticker on our car said, "Proud parent of a child who is learning to be kind and generous."
I wonder: Does our talk at the dinner table usually focus on the famous and their accomplishments?
What if: This summer we read together short stories of heroes of character—courage, endurance, etc., and discussed why these traits matter.
I wonder: Have you ever made a list of your family core values? Recently friends did this with their 3 children (ages 3,6,8). Some of their values include: "hear the voice of God," "live big and give big," "forgive always," "be grateful," and "be honest."
What if: Each of us made a similar list with our kids and began to pray these values into our homes, to praise a child when we see one of the values demonstrated, to look for these values in others and to seek to grow in these traits ourselves.
Here's a different look at fame:
"Famous"
The river is famous to the fish.
The loud voice is famous to silence,
which knew it would inherit the earth
before anybody said so.
The cat sleeping on the fence is famous to the birds
watching him from the birdhouse.
The tear is famous, briefly, to the cheek.
The idea you carry close to your bosom
is famous to your bosom.
The boot is famous to the earth,
more famous than the dress shoe,
which is famous only to floors.
The bent photograph is famous to the one who carries it
and not at all famous to the one who is pictured.
I want to be famous to shuffling men
who smile while crossing streets,
sticky children in grocery lines,
famous as the one who smiled back.
I want to be famous in the way a pulley is famous,
or a buttonhole, not because it did anything spectacular,
but because it never forgot what it could do.
Naomi Shihab Nye