Hey friend,
Since you read my blog you probably know me pretty well by now. And I've had the privilege of meeting many of you when I've spoken in your area. One of my favorite things to do is to connect people that I love and watch new friendships blossom. So I want you to meet two of my favorite people who just happen to be my partners in creating One Word cards.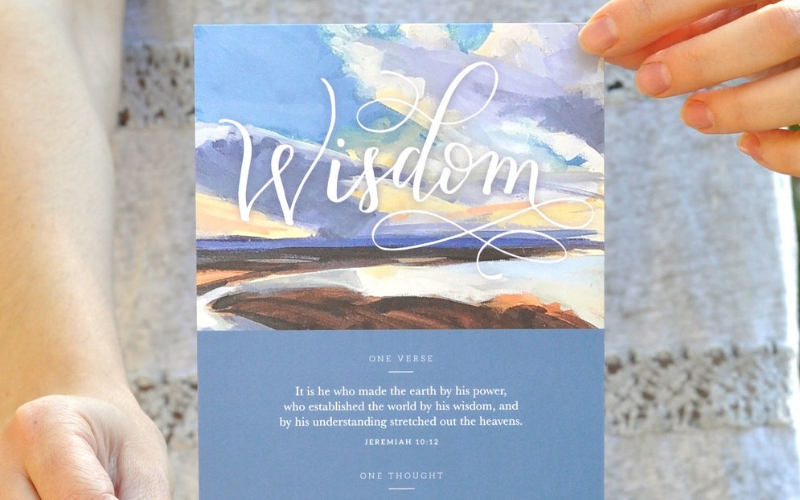 My daughter-in-law Christy is an artist and does the artwork for all of our cards. Her landscapes and her animals are among my favorites. Jess is a graphic artist and does our original calligraphy and graphic design. She is also the illustrator for a new series of children's books, The Bible Basics. These books are my number one go-to for baby gifts!
I thought it would be fun to interview Christy and Jess.
CHRISTY | ARTIST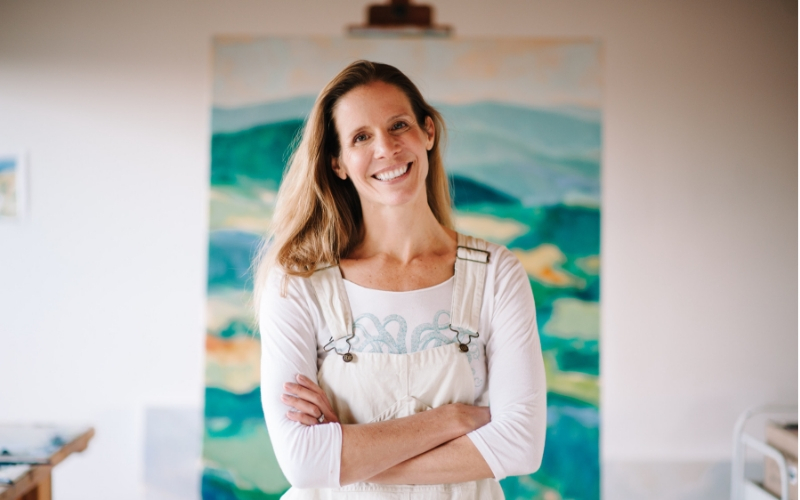 Why do you paint and what does your work mean to you?
My paintings seek not simply to observe, but to explore our relationship with the landscape as well as its flora and fauna, to connect my vulnerability with theirs. Focusing on the Blue Ridge Mountain area of central Virginia, I use loose and suggestive strokes that imply an immediacy of experience within which I want the viewer to linger.
Painting for me is a process of paying attention, of looking at the layers of meaning we ascribe to our placed-ness and hopefully evoking moments of re-humanizing connections. Stepping into my studio is such a gift — the gift of silence (away from my four noisy kids), the gift of paying attention to this beautiful Creation we get to inhabit. It's become my contemplative practice and I'm grateful that it can be considered 'work.'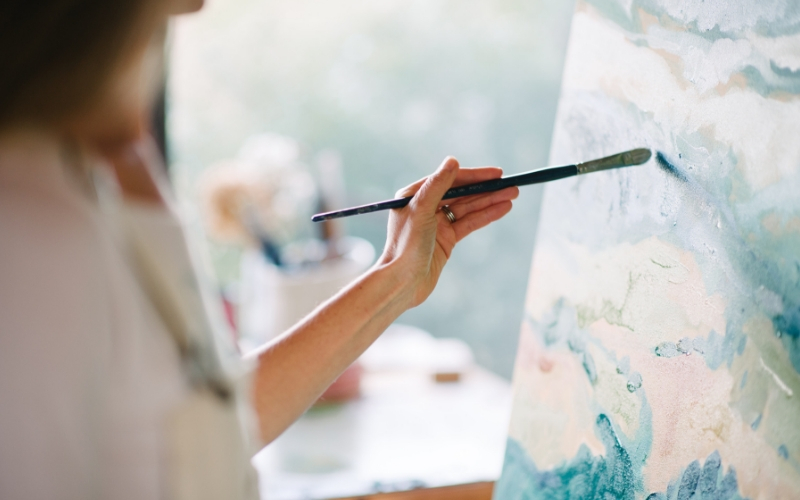 Where can we find your work?
You can find my work in several public and private collections in the US and Canada, including the University of Virginia, GeoBarns, LLC, and purchase artwork through Capital Artist Collective (DC), Liza Pruitt (Richmond) and SB, the shop of designer Sarah Bartholomew (Nashville) as well as online through Serena and Lily and One Kings Lane, and on my website: christenyates.com.
Do you have a studio?
My studio is in our home at the foot of the Blues Ridge Mountains where I live with my husband Chris, our four kids, and a flock of hens! I'm always up for studio visits; just drop me an email.
JESS | CALLIGRAPHY & GRAPHIC DESIGN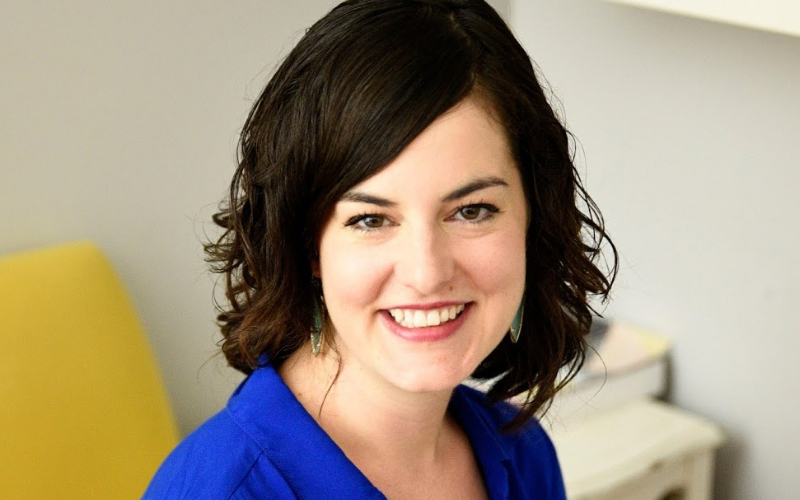 Tell us about background as a graphic artist — how you do your calligraphy and what it means to you.
Ever since I was young, I loved art and graphic design. I was always creating, taking art classes from an early age, and making crafts as often as I could. My career as a professional graphic designer started in 2004. I began learning calligraphy in 2015, starting with pointed pen Copperplate calligraphy, and moving onto brush lettering, which is what I use to create the One Word calligraphy. I love making art with words and find it to be a meditative practice, especially writing scriptures in calligraphy.
Recently you've illustrated several children's books. Can you share with us how this came about and your favorite part of illustrating?
Back in 2016, a friend of our former pastor contacted me to see if I'd be interested in illustrating a children's book she wrote called Bible Basics. Her vision was to create a beautiful line of children's books to present Biblical content to children, using basic concepts such as numbers and letters to present basic theology in a way they'd easily understand and remember.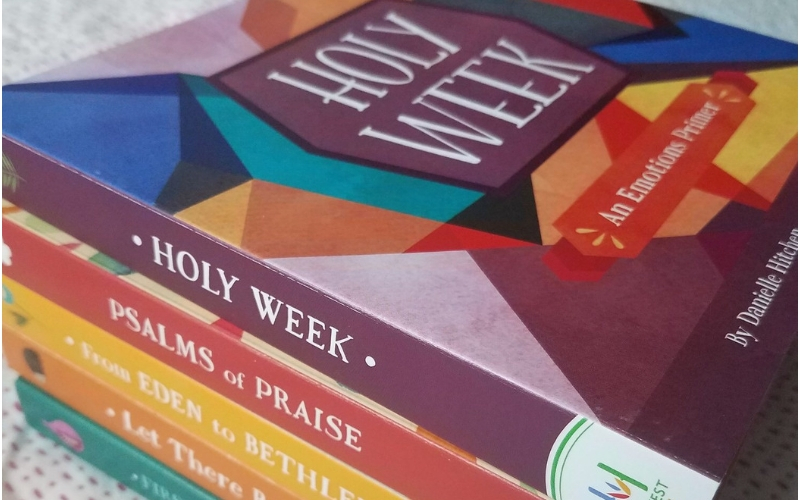 I accepted her offer—with a bit of hesitation, since I'd never illustrated a book before, but it turned out to be one of the best decisions I've ever made. We self-published our book using funds we raised on Kickstarter, and following its success, Harvest House Publishers partnered with us to publish the next four books in our Baby Believer series.
The Lord truly gave me a gift when He presented the opportunity to illustrate these books. It's been a joy and a privilege to witness how they have touched families and encouraged them in their faith journey with their children. I really do love the whole process of illustrating the books, from conceptualizing to holding the final printed book in my hands! My favorite part is that our children are inspired by my work as an artist and have been my biggest fans from the start.
Where can we find your books?
Our books can be found wherever books are sold: Amazon, Barnes and Noble, and other online retailers like Walmart and Target. Just search for "Baby Believer." You can also see them all at our website, catechesisbooks.com and purchase the books or art prints there.
Jess and her husband Seth live in Falls Church, Virginia with their two children and one-year-old foster daughter.
It's my absolute privilege to work with Christy and Jess on One Words. I'm grateful for their talents and for the way the Lord brought us together on this project.
The One Word Cards are currently 20% off with code EASTER, now through April 14, 2019. They're a great way to focus your heart on God's truth every day — and make great gifts, too! Order yours here.