We have 5 kids, all married, and 21 grandchildren. Because we live in different states it's hard for cousins to know one another so years ago we began hosting a "Cousin Camp" each summer. We began with 5 grands from 3 different families and the last few years all 21 grands attended. (No parents allowed!!)
The grands have grown, and different school schedules do not match so a couple of years ago our kids suggested we switch to a FAMILY CAMP usually held over Labor Day, Thursday until Monday. Today our grands range from 12-25. (Our eldest is married!) We have 13 boys (plus 1 grandson-in-law), 8 girls and 5 sets of parents!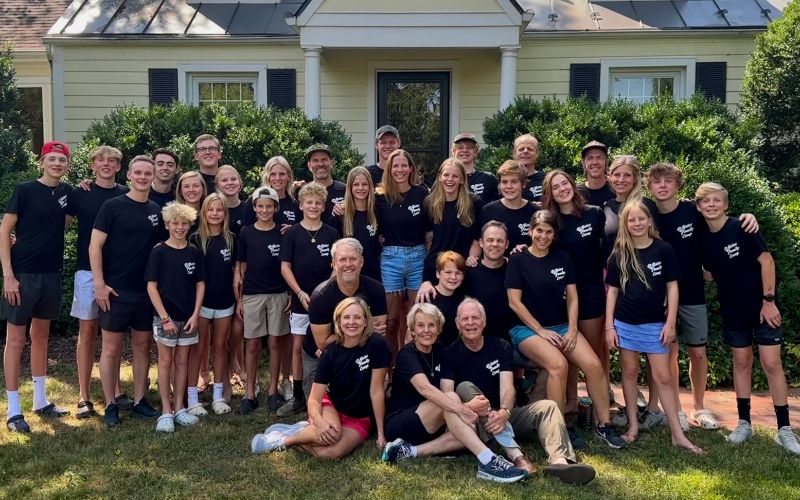 Chaos Management (Logistics)
We hold our camp at our small farm in Virginia. Each adult has a bed (we borrow neighbors' guest rooms) and the kids basically sleep on floors, outside, couches, hammocks! This time is not about sleep. Teens simply like being together. It's a happy mess and I do not clean my house before they come or while camp goes on. It's hard not to pick up but this time is about kids having fun not my keeping things tidy.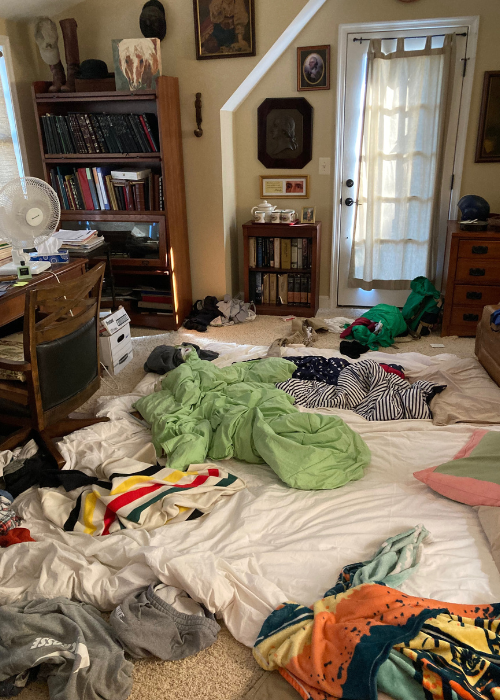 Every family takes one day to cook. We do buffet breakfasts, sandwich and salad lunches, and a main dinner. The cooking family shops, plans, and does clean up. (We appreciate grocery delivery!) This way everyone is "off duty" the other days.
Each family plans one event: ping-pong, hula hoop, and Spikeball tournaments are a huge hit while volleyball is always happening. Art and crafts or a hike on the Appalachian Trail provide fun bonding and lots of sweating!
The first night we all eat together, casually as families arrive. The next three nights the adults escape to our barn for quiet adult meals and sharing while the kids eat together. They do not miss us. We 6 couples take turns sharing personally — blessings and challenges of the year — and then someone prays over each couple.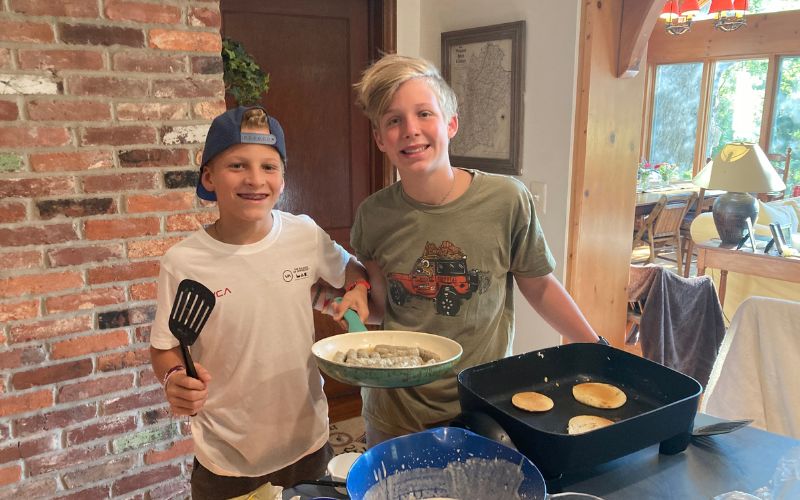 What does Camp look like? (Activities)
Lots of noise, guitars playing late, wrestling (extreme testosterone), a whipped cream fight, an ice cream gutter sundae, corn hole, croquet, horseback riding, fishing, swimming in the pond. Lots of noise, late nights, shoes all over the place, lots more noise. Laughter, giggles, young girls painting fingernails nails, smelly clothes, pranks, still more noise. Noise is a constant.
One of the many fun things about having teens is that they come up with impromptu activities themselves. We don't have to plan so much anymore.
What changes do you make year to year? (For this year…)
Each morning we have a "Family Time" that John leads. This year he shared mainly out of Psalm 139, stressing the fact that God knows us and is always with us. He calls us to be completely honest in all aspects of our life and He calls us to be merciful in our relationships with others. Good questions came up from the kids about what honesty looks like in today's world and why mercy is important.
It's brief and interactive with different kids participating.
This year we introduced a NEW Event which we called:
"Intro Your World"
Keeping in mind the 2 great commandments: to love God and love our neighbor, we devised a plan.
One of the ways we build relationships is by getting to know what someone else does. In a culture of superficial, impersonal social media communication we want to raise good conversationalists. We all need mentors and we realized that we have some good ones in our own family. The more we know about one another the better we can pray for each other and learn from each other. What our adults are doing can impact our teens and young adults as they consider their own futures.
We asked each of our 10 children to take 5 minutes throughout camp to share the following:
Describe the work you are currently doing and there may be more than one thing.

Is what you are doing now what you always thought you would do or have you been surprised. (How did you end up where you are?)

What is something you love about what you do and something that's hard?

How do you see your work as a way of serving God?

Do you have a word of advice to the next generation about vocation?
One Dad shared that when he was in 8th grade, he was afraid he'd never reach puberty, and never make it in the NFL as a quarter back! A mom shared that she wanted to be a nurse on a cruise ship and solve mysteries. An overall theme was that God has you, and in His time, He'll reveal to you what He has created you to do and it might change many times as you mature.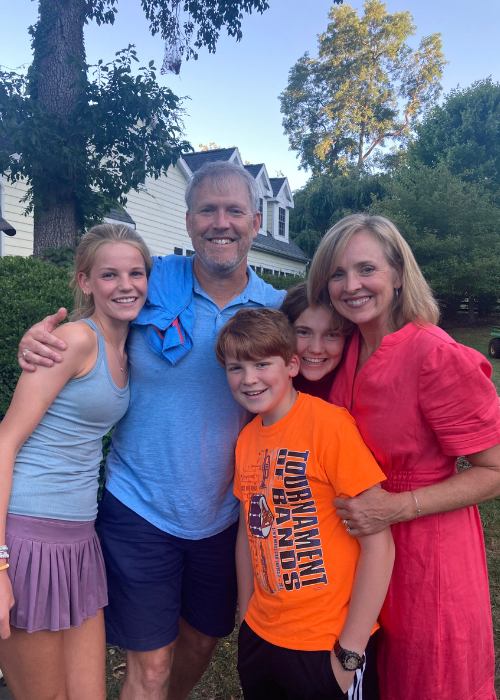 We also gave the kids a cousin challenge: to interview another cousin (not a sibling) asking:
What is something exciting or fun you have done in the past year? Give details!

How has God been speaking to you in the past year or what do you want to hear from Him in this coming year (or both)?
At the next Family Time different kids shared about who they interviewed and what they learned about their cousin. It was dear to hear a 16-year-old boy share what he learned from a 12-year-old cousin.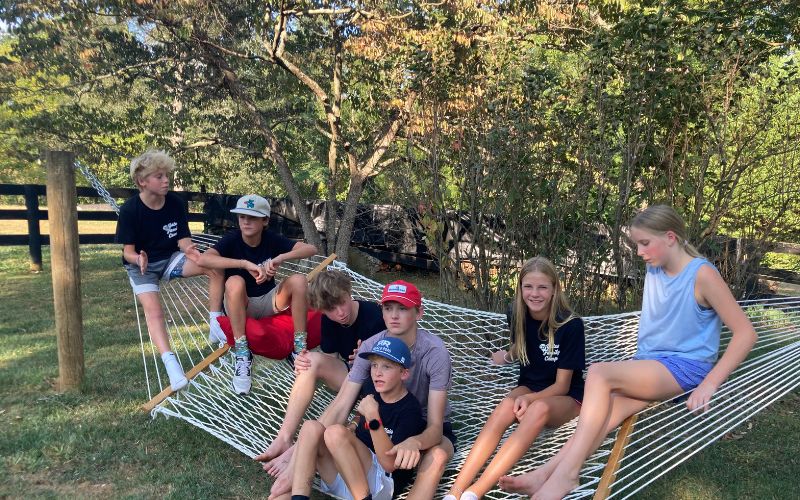 The blessings:
Watching a recent college grad engage with an uncle in business about his future. Noticing a young teen have his eyes opened to what being a pastor might mean. Seeing a young girl laugh as she heard her aunt share about how she loved teaching 4-year-old boys! An unexpected blessing was that we adults learned things about each other that we did not know. This adds another depth to our relationships.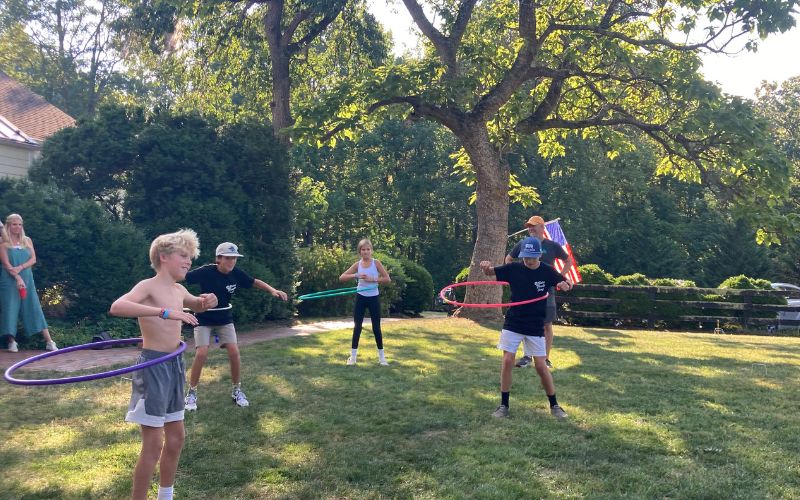 A special moment at camp:
Our grandson Will, who just graduated from college was leaving after camp for Kenya where he will be involved volunteering in mission work this fall. We had a special time of laying hands on him and praying for him.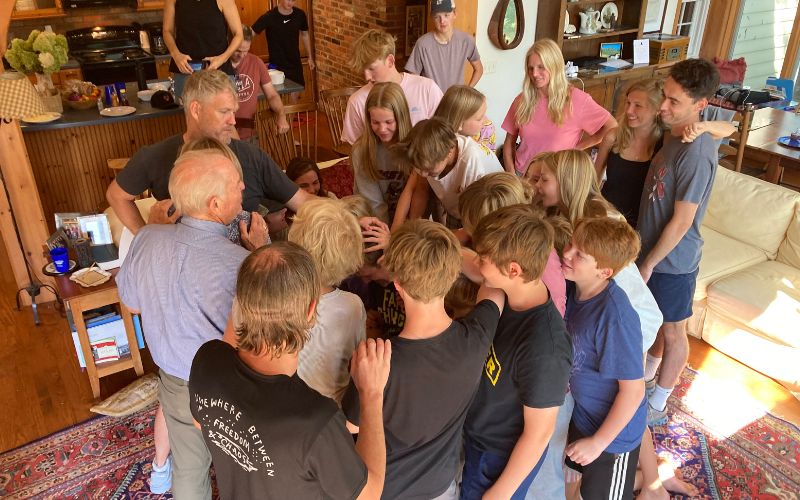 What have you learned over the years?
Family camp or any type of family reunion is not the time to address parenting or sibling issues. Save those for other times. Instead, this is purely a time for building friendships.
Have a few friends pray for you. I asked for specific prayers for protection for all, significant conversations, and LAUGHTER.

Adjust each year according to the ages of the grandkids. Keep sacred traditions but add new elements.

Don't expect to have deep conversations with each grandchild. This time is about their bonding with each other, not necessarily you.

Laugh when things go wrong–broken dishes, a surprising hornet's nest.

Have the kids help. One surprise was that the kids cleaned up dinner and even came and cleared plates from our adult meal. (I suspect our older grands organized this!) But they seemed to make it fun!
We were reminded that it doesn't really matter where you are, or whether you have organized activities or matching t-shirts. Family camp is about the magic and mess of simply being together. Anyone can do this!
For lots of ideas, daily schedules, and different types of reunions grab a copy of my book Cousin Camp.