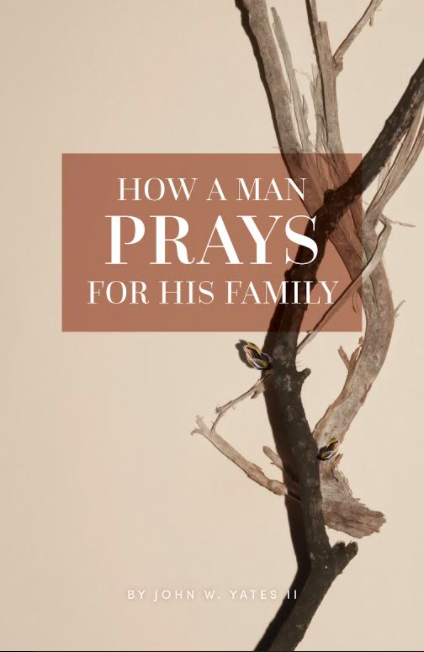 Are you able to identify the obstacles to your prayer life? Wondering how to connect your family to God's power? John Yates' book will help you get past the four barriers to prayer.
About the Book
This is a book for men. Nothing causes a man to realize the great responsibilities of manhood any more than having a family of his own. Whether you are newly married, the father of rapidly growing children, or a grandfather, you carry responsibility for the well-being of your family. They look to you as a provider, protector, and guide. Even the wisest man sometimes feels out of his depth in knowing how to love and provide for his family well. Sooner or later most of us are driven to our knees in seeking God's help. That's the point at which this book begins. It's the point at which a man honestly reaches out to his Maker for wisdom, guidance, and strength.
Prayer is not often easy for men, but learning to pray enables a man to have real communion with God, to learn from God, and to draw on the resources of the Almighty. In this book, you will discover simple, practical advice that will help you start—or maybe renew—your experience of prayer. It will help you to:
Begin to pray more thoughtfully for your family
Overcome the typical "start and stall" of prayer to establish life-changing habits
Experience prayer as a means of gaining strength and insight
Lean into the power of God
It is a brief book, an honest book, and a practical book that is written just for men and especially for men who want to love their families well.
Endorsements
"John Yates teaches men how to really pray for their families, how to overcome the 'start and stall' of prayer, and how to make prayer an effective agent of power and insight for their entire family."
– Ingram Book Review
"LIFESKILLS FOR MEN – books that direct men to a life of strength, wisdom, spiritual character and practical know-how!"
– David Hazard, Creator & General Editor
Disclosure of Material Connection: Some of the links in the page above are "affiliate links." This means if you click on the link and purchase the item, I will receive an affiliate commission. I am disclosing this in accordance with the Federal Trade Commission's
16 CFR, Part 255
: "Guides Concerning the Use of Endorsements and Testimonials in Advertising."