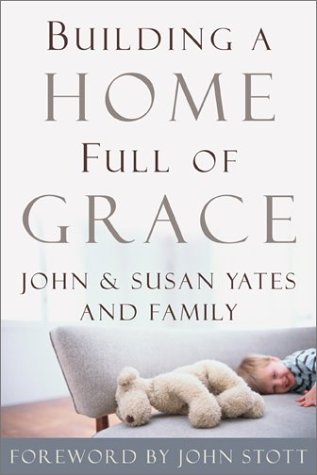 Longing for a loving Christian family? Make it a reality with these proven, practical tips for building a home that overflows with Christ's love.
About the Book
What is at the heart of a home that reflects God's design? It's the astounding quality of grace – a way of living that enables family members to go beyond their natural abilities and love one another as God does.
Building a Home Full of Grace gives rich, practical guidance on how to create such a home and family, from establishing a vibrant marriage to raising joyful and godly children.
Discover how to: keep your marriage a top priority, handle pregnancy and childbirth, use prayer to revitalize your marriage and family, become the mother or father God blesses, cultivate an atmosphere of forgiveness, equip children with decision-making abilities that last. With input from various family members, the Yates' show you that no matter what kind of home you grew up in or what messages you hear from the culture-you can raise a family based on the eternal principles of Jesus.
Endorsements
"Susan Yates charmed many Christian readers with
And Then I Had Teenagers
, an honest and funny guide to surviving-even enjoying-your children's adolescence. Now she teams up with her husband John, a pastor, and their five grown children to write Building a Home Full of Grace, a basic primer on a solid family life. The numerous changes in voices and perspectives can occasionally be confusing, but in general, the book's collaborative approach works very well-and also serves to underscore the fact that happy, healthy families do not agree on every issue."
– Publishers Weekly
"This is a book that invites the heart to hope and turns the life of a family in the direction of love. It is a glorious gift to all who want their homes to reflect Jesus Christ."
– Dan Allender, president Mars Hill Graduate School, author of The Wounded Heart
"Wise, practical, honest, and above all biblical and genuine. The Yates don't just talk it, they live it and we are all the richer for the insights they share"
– Os Guinness, author of Long Journey Home
"I welcome and commend this book, which I encouraged the Yates family to write as a joint family effort. It contains so much practical wisdom, and is derived from such wide experience, that I do not think any parents could read it without learning valuable lessons from it."
– Reviews John Stott (from the forward to the book)
Disclosure of Material Connection: Some of the links in the page above are "affiliate links." This means if you click on the link and purchase the item, I will receive an affiliate commission. I am disclosing this in accordance with the Federal Trade Commission's
16 CFR, Part 255
: "Guides Concerning the Use of Endorsements and Testimonials in Advertising."