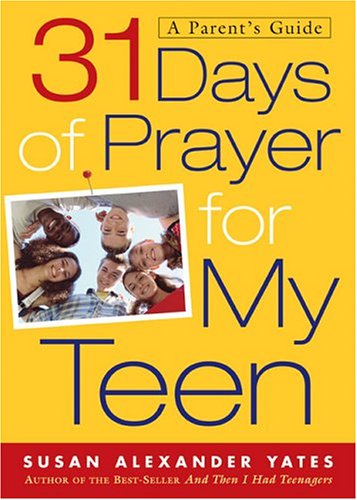 Parents of teens today face overwhelming challenges. Whether a model child out in a dangerous world or a rebellious maverick who's breaking mom and dad's hearts, every teen needs prayer. But where do parents start?
About the Book
Have teenagers? Don't panic! It's no secret that parenting teenagers is often overwhelming.
We wonder, Where have I gone wrong? Is it too late? Will God hear me? Does he really care about the nitty-gritty issues my teen is facing?
Using simple truths and biblical promises, Susan Yates illustrates how God cares about the struggles and choices confronting your teen. Addressing thirty-one common concerns parents have, Susan will help you verbalize your worries and turn them into specific prayers for your teen. At the end of these daily entries you can personalize your prayer, write out a Scripture promise, and choose a character trait of God to focus on throughout the day.If you feel inadequate to guide your children through their difficult teenage years, you are not alone.
Susan Yates offers parents a clear-cut and simple plan for praying for their teens. Full of encouragement and support, this book helps you take each problem to God and trust him with your worries.
Endorsements
"Teen years test every parent's mettle. Susan offers practical, pensive, and spiritual insights to surviving the days, months or even years of unique change. Feeling like a helpless parent? Dive into these pages and you will find a respite from the stress."
– Michael J. Easley, senior pastor, Immanual Bible Church
"As a mother of teenagers, I often feel hopeless, speechless and out-of-control. By opening up the pages of
31 Days of Prayer for My Teen
I find the faith to believe, the words to pray and the encouragement to place my children into the trustworthy hands of their Father."
– Lisa Whelchel, author of the best-seller Creative Correction, founder of MomTime Ministries
Disclosure of Material Connection: Some of the links in the page above are "affiliate links." This means if you click on the link and purchase the item, I will receive an affiliate commission. I am disclosing this in accordance with the Federal Trade Commission's
16 CFR, Part 255
: "Guides Concerning the Use of Endorsements and Testimonials in Advertising."