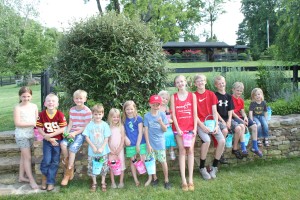 This week John and I are getting ready for Cousin Camp. This will be our 8th year in which we host our grandkids for 4 days and 3 nights at the farm. Parents are not allowed! You have to be age 4 to attend. It begins this Saturday when 19 wild, excited grandkids descend on our place. In the past we've had these kids by ourselves but we have not lost our minds-yet. This year we are having a young couple from our church serve as "staff!" There's no way the two of us can lifeguard this many kids in the pond!
"Cousin Camp" runs from Saturday until Tuesday dinner when the parents arrive with the under 4's and "Family Camp" begins and continues until Sunday.
Over the eight years we've been doing this we've made a lot of mistakes, had a blast, and learned a few things. Here are some of them!
There are three essentials: digital clocks, water bottles with names on them, and shoe tubs!
We've always had a 7 o'clock rule. Each bedroom has a simple digital battery clock and we tell the kids they cannot come out of their rooms in the morning until it says 7:00 (we draw a seven for the ones who can't yet read.) One young child exclaimed, "Mom the best thing about Camp was the 7 o'clock thing!"
When the kids arrive at camp they receive a simple bucket with a few snacks. But most crucial are a flashlight and a water bottle. (Note: we buy inexpensive water bottles with lids that are attached, and we put names on everything.) The first thing we do is to show the kids how to go into a certain bathroom, pull out the stool to reach the sink, turn on the water, and fill their own bottle. We tell them anytime they are thirsty they can get their own water in this sink. This keeps them from asking us for water and keeps them from crowding around the kitchen sink! Can you imagine 19 kids wanting us to get them water at the same time? The little ones are proud they can do it by themselves! They keep their bottles in a large bucket when not in use.
After years of tripping over shoes and losing them, I put plastic bins for shoes by the door. One is marked for those ages 9 and under and the second for those over 9. (We use these when all the families arrive as well.) As kids go in and out of the house they throw their shoes in the bins!
Here are a few other things we've learned over the years:
Plan and organize well and then be ready to throw out any part of the plan!Several weeks before camp John and I have a planning meeting. Each year we do some things differently based on the ages and numbers of the kids. We also try to insert one new thing each year however we've discovered that the kids like doing the same things year after year and often ask, "When are we going to…?"
Mornings include a Bible study with my husband. Every year we have a theme. This year the theme is "Kindness." The kids all have journals with a picture of themselves glued to the cover. With the help of the older cousins, they write verses or draw pictures in them about our study. These journals live at the farm so they can add to them year after year. We horseback ride in the mornings and usually have another activity like swimming or fishing in the pond or berry picking. Lunch is mostly sandwiches in an assembly line. (Note: We keep food simple. And we do not give choices. That would be way too crazy! Camp is not about the food.) There's a rest hour for everyone after lunch and often little ones fall asleep. Afternoon activities might include: crafts, a scavenger hunt, building things (I collect scrap wood from houses under construction and have a supply of hammers and nails.), playing in the creek, a dance party, and so-mores.
LogisticsSiblings sleep with siblings. This gives security for new campers and helps all go to bed more easily. We have lots of floor space with sleeping bags and often a fearful child or two in our room. One of everyone's favorite things is our "buddy system." The older kids are assigned to be a buddy for each younger camper. They help them dress, find lost things, clean up, read at bedtime, and do whatever we ask. A big surprise has been how much the older ones like this! Way before camp I am asked, "Ghee, whose buddy to I get to be at camp this year?"
Everyone wants to be a big buddy. We also have chores. Camp clean up in the morning and then at the end of most days. But I have had to completely lay aside my dreams of a clean house. It will not be clean during camp. Kids will wear dirty clothes and not get baths every day. And things will get broken. But I tell myself there are other more important things going on here.
Special eventsThis year our campers range in age from 4 to 17. Callie, our oldest loves to cook so she plans and teaches a cooking class for the others. This year we are cooking blue berry turnovers and pies with blueberries we'll pick at the local orchard. Our grandson Will is learning to be a good horseman so He assists in the riding lessons. Isabel and Sylvia love crafts so they help with the crafts. I'm learning to ask God to show me my grandchild's passions and play to their strengths by involving them in teaching the younger ones. I also ask their parent's advice in this. Each year during camp we have a "bad manners-good manners" skit. The older cousins act out a bad way to greet someone-hang your head, mumble, etc. and a good way-look them in the eye, reach out your hand, say your name. The kids get creative and we roar in laughter. Each cousin has to do it right to "pass." It is a fun way to teach manners. Our last night of camp we have a little candle light ceremony in which we initiate the new campers into the B.O.C. (Band of Cousins). We give them a pottery cross and we teach them our pledge: "As cousins we pledge to serve the Lord and to take care of each other always." The cross represents God's love for us and our love for each other. John anoints each new camper with oil and prays for him or her. Of course the little ones don't take it all in but as they hear this repeated each year with future cousins we hope it will sink in.
Factor in free timeAlthough we have a pretty full schedule we do put "Free Play" on the schedule. (We post a simple camper schedule for the kids and this helps to eliminate, "what are we doing next?" It's easy for kids to expect to be entertained all the time but this isn't healthy. We are too tired and they need to create their own play! So we have a list of: "Things to do by myself or with someone else. " (None of these need an adult.) Included are: read, climb trees, color, play bocce, look at photo albums, get a cup and collect worms and bugs, build a fort in the woods, create a scavenger hunt, do puzzles, write a song, draw with chalk, play soccer, or corn hole, etc.So when a child doesn't know what to do in free time or says, "I'm bored" we send them to the list. And we encourage them to add to it! It's now up to 53 things. Kids don't need a lot of fancy stuff to have fun. In fact simplicity can be a blessing. It provides the opportunity to foster creativity together.
As we approached this year's Cousin Camp/Family Camp we enlist friends to pray for us- for safety for all (we'd rather not visit the ER!), for patience and endurance for us, and for lots of laughter. We know we'll get impatient, exhausted, frustrated, and at times feel like we were failing as grandparents. But the good news is that God knows our weaknesses and He can redeem our mistakes! Over the years, we've noticed how the young kids rise to the occasion. They behave better for us than for their parents. (My Mom used to say the same thing!). They aren't perfect. Neither are their grandparents. We'll probably have to separate siblings and send several to "time out." We'll have opportunities to say, "I'm sorry and will you forgive me."
The joy of seeing cousins bond with one another makes this our favorite week of our year. However, don't call us the week after; John and I will be in bed!
Check back next week to get a blog update on Cousin's Camp! There will also be regular update on my Facebook & Twitter!